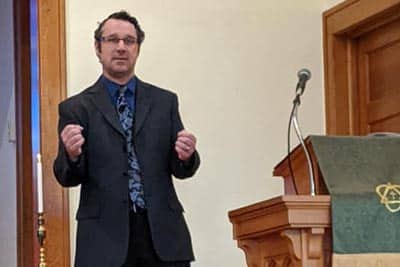 Karl Magenhofer has been covering news and sports in the Valley for more than two decades on WSVA, WSIG and Q101. His voice was one that people throughout Virginia woke up to and counted on to anchor the news every morning.
And often at night, you'd find Magenhofer moonlighting as an announcer for Bridgewater College broadcasting football and basketball games for their website – or serving as the play-by-play or color announcer for high school and college sports, including football, basketball, softball and baseball.
Today, however, a new group of listeners are prepared to show up to hear Magenhofer – on Sunday mornings, as the pastor of Timberville Church of the Brethren.
From the outside looking in, this might seem like a huge change in careers, but Magenhofer has always had the feeling that he would eventually end up at the pulpit, and his grandfather served as his inspiration proving you are never too old to pursue a passion.
"When I was graduating high school, I think there was a thought that some of us in our youth group were going to the seminary," said Magenhofer, from his office at the church, three days in to his new job. "You had to 'feel a call.' And I didn't feel 'called,' and I didn't just want to do it because that was what was expected. So, I didn't."
It wasn't the right time then for Magenhofer to pursue the seminary, so he opted to go a different route.
He is now the fourth person from that youth group to become a pastor.
Religious upbringing
Magenhofer said that grew up in a religious home. It was his grandfather who he drew the most inspiration from. The church was his grandfather's third career – having served in the Navy and working as a lineman for C&P Telephone.
His grandfather was in his 60s when he "got the call" and attended seminary in Tennessee – eventually becoming an Episcopal priest.
"The inspiration I drew from him, it's kind of been twofold," said Magenhofer, now 48 years old. "One was to realize it didn't matter that it wasn't my first vocation, that 'the call' could come at any time. And that you could answer 'that call' at any time. So that was an inspiration."
Additional inspiration came in the form of a box his aunt tracked down that contained about 150 of his grandfather's handwritten sermons.
"It was really neat to go through some of that stuff and to be reminded of his sense of humor," Magenhofer said. "And just to see in writing his faith … I don't think as a kid I appreciated it. I appreciated the job he had.
"But through the sermons and seeing his handwriting on that old crazy computer paper that was green on one line and white on the other because it was easier for him to read … that has really been the inspiration to me."
'Call' goes unanswered
When his wife, Angela, and Magenhofer were dating, they started attending a Presbyterian church where they wanted to eventually have their wedding.
"It wasn't a foreign church to me," Magenhofer said. "It was my granddad's church. It's a church I went to outside Baltimore."
The pastor had two congregations (he gave a sermon at one church and then rushed to the next) and didn't make it to church one Sunday. To fill the time, the congregation asked if anyone had anything to share.
And Magenhofer did … but he wasn't ready just yet.
"They said, 'Does anybody have anything to share?' Well, I have to be honest, I hadn't thought about that sort of thing in a really long time," said Magenhofer. "But at that moment, I just really feel like I should say something."
Despite a career on the radio, Magenhofer wasn't comfortable public speaking, something his colleagues and community may not believe. Magenhofer said that many people assumed he'd be a great emcee or speaker at a club, but he never felt confident doing it.
And so, he hesitated.
"I really felt an urge and knew exactly what I want to speak on," he said. "I'm sitting there thinking … do I say something? Do I raise my hand? Mercifully for me, someone else did speak up.
"But that was kind of a life-changing moment, in a way, for me, because it really brought everything back from before," he said. "And maybe now 'that call' was there."
Another chance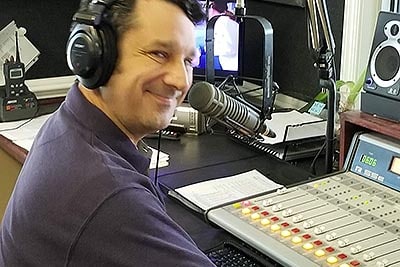 Now in the Valley, Magenhofer started attending the Timberville Church of the Brethren. He found the denomination to be substantive and based on what he felt was the mission of Jesus.
He wasn't there for very long when he got a another chance – the pastor asked Magenhofer to fill in for him while he was on vacation.
"And I'm thinking in my mind, no. I said, 'yes.' And I thought, here's finally the chance to share that message I thought I was going to share at the Presbyterian church Angie and I were attending."
He delivered the sermon that he remembers as horrible, and just like his grandfather, he injected a little humor into his recollection of it: "People were kind," he said. "They didn't throw tomatoes."
The next step
The greatest loss in Magenhofer's life, perhaps, led him to a connection that would help him navigate this new chapter of his life.
Magenhofer and his wife lost their baby, Camden, at birth, and were shortly thereafter introduced to The Sadie Rose Foundation, and co-founder Regina Harlow.
It turns out that Harlow had also been led to the church, but she didn't attend seminary school.
Magenhofer reached out and learned about the Christian Growth Institute, or CGI. Before long, he was approved to take classes making a four-year commitment on a path to becoming a pastor.
Amidst his classes with CGI, Magenhofer was offered another major opportunity, in broadcasting, and he had to make the choice: a future as a pastor, or a future in news and sports?
"It's (CGI) a commitment on Saturdays, and it affected my sports schedule," said Magenhofer. "Matter of fact, last year, I wasn't able to do Bridgewater football at all. And also last year, they asked me, can you do JMU football? Well, if someone had asked me 15 years ago or 10 years ago, that would have been my dream come true. That's the reason I got into the business.
"It just wasn't the same priority. And I just had to say, 'I can't do it.'"
Magenhofer admits the coursework was tough. And he confided in his wife at times that he was afraid he wasn't "smart enough to do this."
That stemmed from the advance text he had for his first class: The Hermeneutical Spiral. He said he would read at night in bed and sometimes laugh out loud because he didn't understand a word or sentence.
When he went to his first class, however, another classmate joked about how he wore out Google looking up words from the book.
"And I thought, I'm not alone. I can do this."
Magenhofer interned at Montezuma Church of the Brethren for five months and filled in for area churches when they were in need of a pastor for any given Sunday.
A lot of people in the congregations felt like they already knew the guy on the other side of their radio dial.
"I think that's made it easier for me personally, to go to all these churches, where people felt like, Hey, I know this guy," he said.
He had to eventually get over his fear of public speaking.
"You have to feel confident that the words that you've been given, you've been given those words. So, you know, you just have to feel confident in it," he said.
His Sunday pulpit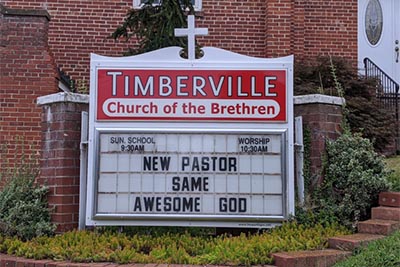 Timberville Church of the Brethren has been blessed with the same pastor, Bernie Fuska, for more than 30 years. Magenhofer learned from Fuska sitting in the pews with his wife, and children – Brooklyn, 11; Cardie, 9; and Adrian, 2.
As Magenhofer prepared for his interview to replace Fuska, his house was chaotic with children running around. He called Fuska to ask for any last-minute advice.
"And he says, just say Jesus a lot. I think they like that," he said. "I appreciated that. At this moment, it was the levity that I needed."
It must have gone well, because Magenhofer was selected to lead the small congregation (around 50 attend each week in person, with a membership of 200+ – some who watch services on the church Facebook Live feed).
On Sunday, Magenhofer will give a sermon to the churchgoers that he has shared a pew with for many years – and the congregation that he first spoke to when the pastor went on vacation – a church that he said his family knows well and a church willing to take a chance on, in his words, "a rookie pastor."
After the service, Magenhofer will officially be installed as the pastor of Timberville Church of the Brethren.
"I guess I kind of liken it a little bit to when I first started in radio, and I remember coming in for some reason, even though I didn't have any experience, and man, I thought I was great, and I thought, you know, they were lucky to have me, and I was fantastic," Magenhofer said. "It doesn't take very long to get humbled and realize, gosh, the intern from Broadway High School is better than I am.
"I wasn't just coming up with stories, I was responsible for giving people information that they needed."
With radio now behind him, the reality of the job before him has set in.
"I'm still in the business of giving people the information that they need," he said. "But sitting here in this office, sitting up in that sanctuary, and thinking, I'm ultimately, as far as the congregation is concerned, responsible for how things go around here.
"And that's powerful. It's an awesome responsibility to take on."
He admits he is fortunate to be at the Timberville church – a place that knows him, but he still feels the weight of the world on his shoulders.
"I'm getting a sense of what this job is, and how important it is. So from that standpoint, right now, it feels pretty heavy," he said. "I would say, however, that in the past two weeks, it's been made lighter by the folks who are here at the church, and everybody jumping in, and you know, there's kind of a sense of excitement and a chance for renewal."
A chance for renewal, a chance to break out of the comfort zone, for Magenhofer and for the congregation.
"We have the chance to make some changes, but also the responsibility of making the right changes," Magenhofer said. "Change just to make changes is worthless. You have to make change based on something that's actually going to be important and impactful."
A destiny fulfilled
When I wrapped up the interview with Magenhofer, someone I've known and worked side by side with over the years, I asked him for any final thoughts.
He joked, of course, being in the news business for so many years, that this is where I'd get my soundbite – and he was right.
"It's been a lifelong journey. I didn't always know I was on it," he said. "And now to be at this stage of the journey, you know, school was an end, getting the job was the beginning, and now there's no end, so to speak.
"It's not like, you know, I'm trying to get to a certain place or get to some sort of accolade. Or it's not like sports where you know, there's a championship to be won, so to speak. This is an ongoing thing.
"So I'm just praying to, quite honestly, do a good job here. And to serve this congregation in the way that they need to be served."