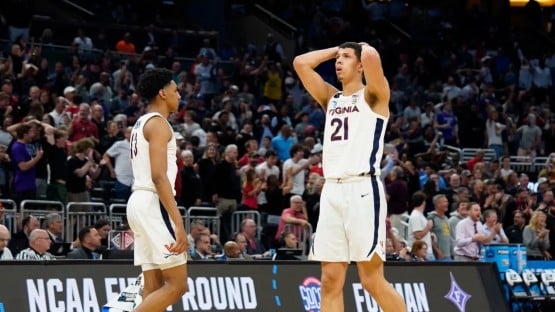 Tony Bennett put Kadin Shedrick in minutes purgatory for two months. After a strong finish to the season, Shedrick is taking his two years of eligibility to the transfer portal.
The 6'11" redshirt junior put his name in the portal on Monday, joining two other Virginia bigs, Isaac Traudt and Francisco Caffaro, leaving Virginia via the portal, with just one player with any appreciable amount of minutes, 6'8" freshman Ryan Dunn, who averaged a modest 12.9 minutes per game in 2022-2023, set to return.
Shedrick was on his way to an All-ACC season early on as Virginia rolled in November and into December, ranking as high as second in the national polls, but Bennett demoted Shedrick after Virginia's win over North Carolina on Jan. 10, in favor of grad transfer Ben Vander Plas, looking to get more floor balance on the offensive end from Vander Plas' perimeter shooting.
Over the next 14 Virginia games, Shedrick got on the floor for just 107 total minutes, including being a healthy scratch in three games.
There was talk around the program about Shedrick not practicing well after the demotion, and that being a factor in his reduced minutes, even as Vander Plas was limited somewhat by a lingering back injury down the stretch.
Shedrick finally got back in the lineup when Vander Plas was lost for the season on the eve of the ACC Tournament with a broken hand sustained in practice.
In what would turn out to be his final four games as a Cavalier, Shedrick averaged 8.0 points, 7.0 rebounds and 2.8 blocks per game over the final four games of the season, shooting 61.1 percent from the floor.
In the NCAA Tournament loss to Furman, Shedrick played the game of his life – 15 points on 5-of-9 shooting from the floor and 5-of-6 at the line, 13 rebounds, four blocks.
But he didn't get off the bench in the loss at Virginia Tech, got a total of 18 minutes in the loss at Boston College and UNC – losses that piled up as it was obvious that Vander Plas was limited by the back injury.
Can't blame the kid, then, for leaving, given how things played out after Jan. 10.
The loss of Shedrick, coupled with the loss of Traudt, a four-star recruit who redshirted in 2022-2023, really leaves Bennett and Virginia in a lurch, with only Dunn and incoming four-star recruit Blake Buchanan on the roster as frontcourt players for 2023-2024.
Virginia has been linked to several bigs on the transfer portal, but Bennett is now going to have to hit a couple of home runs there.