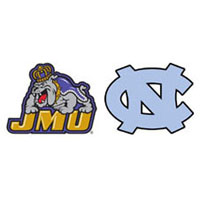 After winning the Colonial Athletic Association Tournament Sunday afternoon to clinch the conference's automatic berth to the NCAA Tournament, the James Madison men's soccer team has been selected to play North Carolina for the first round of the College Cup, as announced by the NCAA Monday afternoon.
The match, which will be played in Chapel Hill, is set for Thursday, Nov. 20, and will be played at 7 p.m. The winner will take on Charlotte on Sunday, Nov. 23, in Charlotte, North Carolina. The 49ers have a bye to the second round and are the No. 10-seed in the tournament.
All-time against the Tar Heels, JMU leads the series 3-2 with the most recent meeting coming on Sept. 11, 2012. In that match at University Park, the Dukes topped North Carolina 1-0 when the Tar Heels were the top-ranked team in the country.
The match is also the second NCAA Tournament meeting between the two programs. JMU traveled to Chapel Hill on Nov. 20, 1994, and came away with a 3-0 victory.
North Carolina finished the season 12-5-1, which was good for second in the ACC Coastal Division. Tickets for the match are available at GoHeels.com.
JMU will be making its 14th all-time appearance in the NCAA Tournament. This is the first time JMU has reached the NCAA Tournament since 2011 when the Dukes earned a first-round bye and reached the Sweet 16 before falling on the road at Connecticut. JMU's two best runs in the tournament are appearances in the elite eight.
To reach the NCAA Tournament, the Dukes ran through the CAA Tournament against the three teams that tied for first place during the regular season without allowing a goal. First, the Dukes traveled to Hempstead, New York, and beat No. 3 Hofstra 2-0 in the quarterfinals. On championship weekend in Newark, Delaware, Madison beat No. 2 UNCW 2-0 in the semifinals before topping No. 1 Delaware 1-0 on Sunday to clinch the program's fifth CAA Tournament title in eight tries. All five titles have come under the direction of head coach Tom Martin.
Along the way, JMU became the first team in conference history to win the conference title as the No. 6 seed. The Dukes were also the first team to make the finals since 1993 when Old Dominion made a run to the championship as the six-seed before falling to James Madison. Madison was picked to finish last in the CAA this year in the preseason polls.