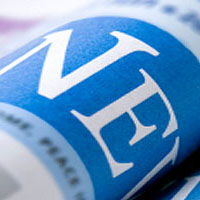 The incessant reverberations in my ears seem to have found a permanent home, echoing back and forth across the empty space my thoughts used to occupy. This space used to be a placid lake: cool, tranquil, and slightly rippled by an invisible, stirring breeze. Now the lake has been drained, exposing a smooth-walled cavern – the perfect surface to replicate the verbal atrocities of the world over and over again. At what point does the repetition stop? No real sound can maintain the energy to bounce from wall to wall, brain cell to brain cell, without fading away into something so exponentially small that it can no longer be noticed. It is like a decelerating guitar string plucked minutes ago: impossible to be heard by human ears, but still resounds in the memory as the final note of oblivion. I assure myself I am not going insane. But what is sanity in a world filled with unnecessary noise?
In order to escape the chaos of an empty cranium, I need rapture. I need an escape from the artificial bombardment of nonsense that crashes from ear to ear leaving nothing behind but my buzzing brain cells. I need to go to a place where I know the only feelings I will feel will be real. I need to go home!
Letting my mind wander across the Shenandoah Valley as flies have their afternoon feast on my flesh may not exactly be pleasant, but it is rewarding. Hearing the blood course through my veins, one bulging heartbeat at a time. All of the unnecessary whining fades into the sound of miniscule wings surrounding my body. No one fly bites at the same time, and the greater the number of bites, the less I notice each individual, bringing an eerily peaceful numbness into the space between my ears which was once empty. I know these ordinary pests are not useless, but vectors through which some greater power elicits the radio static from my body. For the undeniable reality they bring me, I have reason to be thankful for their bites and intrusion on my otherwise peaceful period of rest.
Now, fully accepting of the swarm, I lay back onto the rock-laden soil below me, each vertebrate finding a home against an individual stone, creating an unsettling bed of comfort. As I look up through the barren tree branches, which hope to soon be filled with the gifts of buds and berries, my mind is flooded with an ocean of lonely sky. This sky is no sky to lay under with the intention of imagining shapes of childhood floating endlessly by. This sky is a dangerous one to look through. Smoke lingering in the air warns of the sirens of the deep blue sea, but I know the perils that lie ahead are in no way more dangerous than the incoherent humming of unflinching machinery in my mind. I lift anchor and allow the wind to catch my sails, floating easily between each limb reaching out to snap my mast at the base. However, my guide pulls me on his designated course with the still suggestions of a late spring afternoon. I am able to rest easy, knowing my sights are set on the unknown reality ahead, always looking skyward, always looking heavenward, always looking homeward.
Column by Jacob Lam