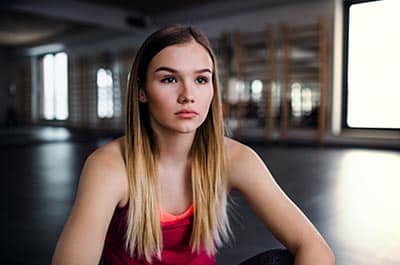 When Skylar Napier was a youth, mental health wasn't discussed. When life was difficult for her, she found solace in sports.
Today, with prominent female athletes like U.S. gymnast Simone Biles and tennis superstar Naomi Osaka sharing struggles with their own mental health publicly, it seems like mental health is finally the focus of kitchen table chats and locker room conversation.
"When I was growing up, sports was an outlet for me," said Napier, the head coach of the Waynesboro High School girls' basketball team and a 2004 WHS graduate. "Mental health wasn't talked about much. I needed something to take my mind off of things going on around me. Sports helped with that."
Youth athletes face a number of challenges from trying to make a team to weight and time management. Not to mention injuries, concussions, overtraining, sleep disorders and anxiety.
Napier is trying to reach the new generation of female athletes and put nutrition and physical and mental health at the forefront.
For the second year, she has put together a seminar and opened it up to all female athletes – from any age and school – to attend for free with a parent or guardian.
Napier, known to students as Coach Skylar, said she was disappointed at first with last year's attendance.
"I thought it was going to be a bigger turnout," she said. "Then, I told myself, well, hopefully, I touched the ones that showed up.
"It's better to help one instead of none."
The theme of the event is "Inspiring the Future," and it will be held on Saturday, Aug. 6, at 5 p.m. in the Waynesboro High School auditorium.
"I hope the young ladies can relate to them (the speakers)," said Napier. "Parents and coaches may have said something a million times but hearing it from others who have had similar experiences, it may just click better."
The event will feature speakers including:
Holly Rilinger, 1991 WHS graduate, JMU all-time leading scorer in women's basketball, WNBA player, best-selling author, motivational speaker, Nike Master trainer (will attend virtually)
Lenise Mazyck, works with children and young adults, owner of Roots Counseling LLC, licensed clinical social working in Virginia, graduate of JMU (bachelor's degree in social work) and USC (master's degree in social work)
Jemise Diggs and Taylor Sandidge, mother and daughter duo
"I feel so grateful to live in New York City and come from a very humble beginning; the small town of Waynesboro, Virginia," said Rilinger. "It's important for me to show kids in these small towns that anything is possible when you put your heart, mind and effort into your dreams. Basketball has taken me all over the world and opened unimaginable doors to my future."
Rilinger said she plans to talk to the girls about failure.
"We live in a world where we are made to believe that success is linear. We see everyone's highlight reels on social media and rarely see their failures," said Rilinger. "I want to bring to light the amount of times I not only failed but had to scrape myself off the ground, refocus and charge forward again. Failure is our friend. It's a way to recalibrate and build character. It's a chance to rebound. It's an opportunity to practice for failure in all parts of our lives."
For questions regarding the seminar, you may contact Napier at [email protected].