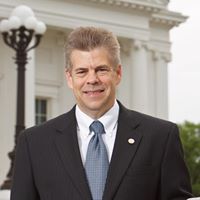 Virginia House of Delegates Majority Leader Kirk Cox (R-Colonial Heights) announced Thursday that he will propose legislation in the 2015 General Assembly session to cap student athletic fees at Virginia's four-year public universities. The legislation is based on a recommendation made by the Joint Legislative Audit and Review Commission. JLARC's report concluded that "auxiliary enterprises have been the largest driver" of increased college costs in Virginia.
"Virginia has world-class colleges and universities that produce some of the best and brightest students in the world. As parents to four sons who have graduated, currently attend or will soon attend college, my wife Julie and I understand firsthand the stress and anxiety brought on by the seemingly ever-increasing cost of higher education," said Cox. "Virginia has great schools, but the cost of attending them is going up too much, too fast. The average cost of a four-year degree has increased by 28 percent since 2008. In 2012, Virginia had the fifth highest net cost in the country. Both of those figures exceed regional and national averages. We have to take steps to make college more affordable for families."
Under Cox's legislation, the amount of athletic revenue that colleges and universities collect from mandatory student fees would be limited. The caps will be applied differently to Virginia's Division I, Division II and Division III schools. Institutions will have five years to incrementally reduce mandatory student fees as a percentage of overall athletic revenue. The exact percentage caps are still being developed.
"I am a huge sports fan. I am a former high school basketball coach and I currently coach youth baseball. My third son, Blake, has committed to playing college volleyball. Blake will represent a small fraction of students across the country who play college sports. In Virginia, only about three percent of college students will play intercollegiate athletics. But mandatory student fees account for, on average, 69 percent of athletic program expenditures, according to JLARC. In other words, we are asking non-athletes and their parents to cover two-thirds of the cost of college sports. In my view, we simply cannot ask students who will never play a minute of college sports to bear such a disproportionate share of the costs associated with these programs."