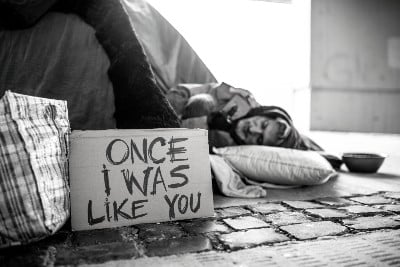 An already critical problem with homelessness in Staunton, Waynesboro and Augusta County is about to become a public emergency in the coming weeks.
"My guess is that we are going to see a spike in homeless people being arrested, going to Middle River (Regional Jail) or going to the emergency room," said Edwards, the acting executive director of WARM, a Waynesboro-based nonprofit that provides emergency shelter for homeless people in the area.
You're asking yourself, why would police be arresting homeless people? It has to do with the expiration of federal funding that is paying for temporary housing for 75 local homeless people at hotels in Waynesboro and Verona.
A crude homeless head count that we have locally is roughly 365 – that head count representing the number of beds available at Valley Mission in Staunton, WARM in Waynesboro, and the temporary housing funded by the CARES Act at the local hotels.
When the CARES Act money runs out, that will reduce the local capacity to provide temporary housing for local homeless by 20.5 percent.
"It's not a good time for the funding to end. Its initial purpose was satisfied. But now we have a new problem. You have unsheltered people and no place for them to live," said Edwards, a former Waynesboro police officer.
Mind you, the homeless head count cited above is almost certainly a dramatic underestimate. Even the official numbers – state and federal data tell us that there are 6,000 total homeless in Virginia, around 700 in the western part of the state – don't account for people who sleep on the couch of a friend or family member, who sleep in their cars, on the streets, under bridges.
Understanding that, now you need to factor in a coinciding problem with a shortage of affordable housing that could end up making the local situation far worse than it is now.
The local housing market, like many across the nation, has been superheated the past couple of years, pushing housing and apartment prices through the roof, putting more and more families on the brink.
"It appears that the disparity between really high-end apartments and affordable apartments is growing and growing," said Lydia Campbell with Valley Community Services Board, which serves as the coordinator for the Valley Homeless Connection.
The Valley Homeless Connection is averaging five housing placements a month across all its subsidy programs, which Campbell said is "just a drop in the bucket compared to what the need is."
She estimates that the Valley Homeless Connection Helpline is receiving 200+ calls per day because people are struggling to find housing they can afford.
Keep in mind, many of these folks have jobs, some more than one, but wages for many on the lower rungs on the economic ladder haven't kept up with the cost of living.
For those in the homeless population with additional issues – substance abuse, mental health – the lack of stability caused by not having a consistent roof over their heads just exacerbates those underlying issues.
The pending closings of the Verona and Waynesboro hotel shelters funded by the CARES Act monies will almost certainly put additional burden on local law enforcement and Augusta Health.
"Sometimes it's three o'clock in the morning, and the officer is not going to know what to do with that person. So, they will take them to the hospital or find a reason to arrest them so they can go to Middle River because it gives that person a place to be. However, it's not where the person should be," Edwards said.
That's it, in a nutshell.
And as you can see now, this isn't a their problem; it's an our problem.
The CARES Act funding was always going to run out eventually.
It should have been used to buy us time to come up with long-term solutions.
Why it is that we always seem to prefer to default to waiting for an emergency to force us to do the right and smart thing is another story for another day.
It's past time for local government – the Augusta County Board of Supervisors, Staunton City Council, Waynesboro City Council – to step up to the plate.
Finding the dollars to fill this hotel shelter stopgap shouldn't be all that difficult. We can take it out of the extra money we'd have to throw at having to house more people at the regional jail if we let those shelter spaces lapse for lack of action.
Then we can get the three localities to address factors contributing to homelessness in our area – the shortage of affordable housing and access to substance abuse and mental health services.
"Communities really have to come together, and say, 'What can we do?'" Campbell said. "They may not be seeing it now. But they will come September, October. I think it's going to be more and more evident."