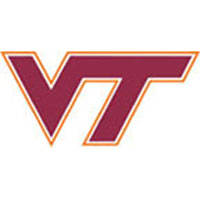 Beamer Ball was built on blocked kicks. Virginia Tech blocked 66 kicks in the 1990s, just short of seven a year, and even when the Hokies weren't blocking kicks, the fear of the block brought out the specter of the shank in many a punter, giving Tech offenses more than their fair share of short fields to work with.
So then consider this little nugget of factdom: Virginia Tech blocked one punt in 2013.
That's right. One. One!
Coach Frank Beamer exploited the inefficiencies in the kicking game for all it was worth for probably longer than he should have been able to. He knows that all too well.
"You've got to understand, the formations have changed. Now there's a shield back there. You've got three big guys. So me now it's harder to block a kick. You've got to know who you're going to get free on the front line, and they've got to get past the shield and the back line," Beamer explained to reporters at the 2014 ACC Football Kickoff in Greensboro, N.C., last week.
But what the shield taketh away, it also giveth.
"What's gotten easier, and what you play to, is returning kicks. Because now these three slugs back there in the back line, these three big guys, they're not going to be great cover guys. So there's less cover guys, and I think your attention now needs to be on returns," Beamer said.
Call it Beamer Ball 2.0: the attention is on returns, but the fear of God in a punter's eyes is still there looking out at those soon-to-be oustretched arms.
"We're always going to try to block kicks, and we're hopefully going to have that threat, but returning the kicks are the easier way to go now to get yardage," Beamer said.
– Column by Chris Graham