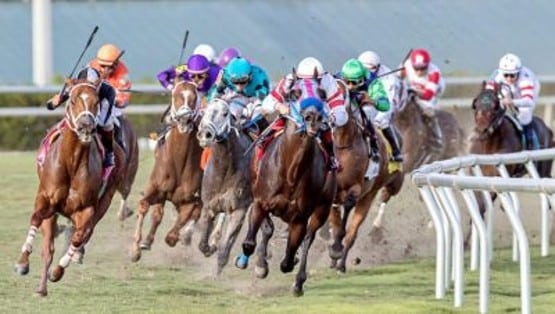 Horses have Fitbits too.
While racing is suspended at Churchill Downs pending investigations of the deaths of 12 horses that suffered injuries at the track where the Kentucky Derby is raced every May, horses continue to train on the track.
And some horses are training with the StrideSafe program, which is funded by a grant from the Kentucky Horse Racing Commission. The devices came out in 2019, and Churchill Downs is the only horse racing facility to use them so far, as reported by Hearst Television.
"It is a tool that I think can be very effective in the future of identifying injuries way before they get serious," trainer Dale Romans told Hearst's sister station WLKY.
StrideSafe CEO David Lambert said the device is a sensor that uses a GPS technology to measure the body movements at high speed of horses. The device is in a pocket below the saddle on the rear of each horse.
"That tells us about how the horse is moving. And when we see changes in how he moves, then we know that there's trouble coming," Lambert said.
A sensor last week recognized one of Romans' horses was in trouble.
"We knew from that data that there was an impending fracture about to happen in his left leg. So that horse, had he kept going, he was looking at becoming one of these statistics, a catastrophic injury," Lambert said.
The data convinced Romans to rest the horse and take him out of training.
Sensors have been used on every horse racing at Churchill Downs during the 2023 Spring Meet, including the Kentucky Derby.
"There will always be bad steps here and there, but we've got to get it as low as possible," said Romans. "I think StrideSafe won't be the end all, but I think it could be a major tool."