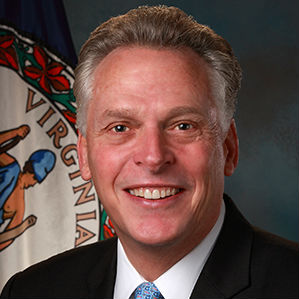 Governor McAuliffe received final policy recommendations from the Commission on Integrity and Public Confidence in State Government and thanked members for their work to strengthen good government policies in Virginia.
"I created this bi-partisan Commission to restore public trust in our state government and strengthen our ability to attract future leaders of the highest professionalism. I am pleased at the progress we have made in reforming our ethics laws, but there is clearly much more work to be done," said Governor Terry McAuliffe. "The citizens of the Commonwealth owe Commission members their gratitude. I chose individuals of the highest caliber for this initiative, and their report is a reflection of the thorough research and wisdom of this outstanding group of men and women."
"Stemming from an intensive year-long effort, the bipartisan proposals our Commission is making will help to ensure that among Virginia public officials no interest comes before the public interest. Our proposals are comprehensive. If adopted, they would strengthen our state's laws regarding conflicts of interests, gifts to public officials, disclosure requirements, oversight, transparency and accountability, legislative redistricting and legislative compensation," said former U.S. Rep. Rick Boucher, co-chairman of the Commission.
"I am honored to help improve Virginia governance through the Governor's Commission. We ensured that the process was transparent, rational and evidence based. Our recommendations will not only help current Virginians, but will foster good governance for generations to come," said former Lt. Governor Bill Bolling, co-chairman of the Commission.
The final report contains recommendations made over the life of the Commission, including a set of new proposals drafted during its 2015 meetings. The following recommendations cover a broad-based set of pragmatic reforms intended to improve transparency in all areas of state government.
Commission Recommendations
Campaign Finance
Expand current rules for personal use of campaign funds to apply while the campaign fund is active.
Prohibit fundraising during special state legislative sessions lasting more than one day and during the reconvened session.
Legislative Compensation
Improve the transparency of legislative compensation by establishing a clear separation between official salaries and office and staff expenses.
Judicial Selection
Develop comprehensive evaluation procedures for judicial candidates at all levels.
Budget
Align the state budget cycle to gubernatorial terms.
Provide public funding for the transition expenses of governors-elect.
Elections
Require local registrars and electoral board members to file economic disclosure forms.
Gifts
Establish rules on gifts to public officials from personal friends that would set a value threshold for disclosure and a higher value threshold for a ban, subject to waiver by the Virginia Conflict of Interest and Ethics Advisory Council after a consideration of all circumstances.
Commission members also reiterated the following recommendations made in 2014 that have not yet been fully acted on by the General Assembly.
Establish an independent Ethics Review Commission with investigative and enforcement powers to oversee ethics issues related to executive and legislative branch officials, local government officials and members of boards and commissions.
Prohibit members of boards and commissions from voting, authorizing grants, awarding contracts, issuing opinions or otherwise influencing a decision that directly benefits the interests of themselves, immediate family members or business associates.
Require the value of "bundled gifts" to be reported along with the identities of the individuals, groups or organizations that contributed to it. A bundled gift is defined as a gift delivered by any person comprised of separate gifts derived from another person, organization, or group of persons or organizations.
Remove the prescribed formatting of disclosure forms from the Code of Virginia and give the Ethics Review Commission or the Virginia Conflict of Interest and Ethics Advisory Council the authority to draft, amend and distribute the documents.
Require pre-clearance of any loan to officials, spouses or dependent children in excess of $5,000 that is not from a commercial lender.
Extend the rules on gifts to cover givers other than lobbyists and principals of lobbying firms.
Adopt a citizen-centered redistricting process that establishes nonpartisan criteria for drawing legislative maps and amend the Virginia Constitution to create an independent redistricting commission.
Background
On September 25, 2014, Governor McAuliffe signed Executive Order 28, which created the Commission. The Commission includes the following 10 bipartisan members:
Commission co-chairmen
Former U.S. Rep. Rick Boucher
Former Lt. Gov. Bill Bolling
Commission members
Former Delegate Viola Baskerville
Chairman of the Fairfax County Board of Supervisors Sharon Bulova
Former President of the University of Virginia John T. Casteen III
President of Hampden-Sydney College Christopher Howard
Vice President for Advancement at George Washington's Mount Vernon Susan A. Magill
Attorney and former Assistant Attorney General Courtney M. Malveaux
Former Delegate Joe T. May
Former President and CEO of BB&T Scott & Stringfellow, Inc. John Sherman, Jr.
The Commission's full and final report can be found on:  governor.virginia.gov/media/5103/integrity-commission-final-report-dec-2015.pdf.