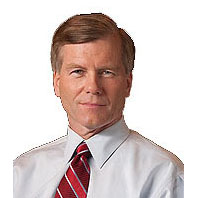 Gov. Bob McDonnell issued on Friday an Executive Directive calling upon the Secretary of Public Safety and other members of his Cabinet to establish an Anti-Human Trafficking Coordinating Committee to assure that the Commonwealth's response to human trafficking is comprehensive and coordinated.  He announced the issuance of the Executive Directive during his remarks at the first-ever Governor's Summit on Human Trafficking today in Richmond.
Speaking at the Summit, McDonnell remarked, "Human trafficking is one of the fastest growing criminal enterprises in the world.  This horrible crime generates billions of dollars in profits by victimizing people through control and exploitation. We have worked over the last three years to strengthen Virginia's laws against human trafficking, but there is more to be done to combat this growing crime.  Through the Governor's Summit on Human Trafficking we have brought together representatives from state and local government, as well as advocacy groups, to drawn attention to this heinous crime and work toward comprehensive solutions to fight human trafficking."
In addition to his Executive Directive, the governor told the gathering that he will consider including in the upcoming two-year budget funding for a modest grant program to support pilot programs designed to reduce prostitution and provide services for the female victims of trafficking who are coerced into the crime.
The governor's remarks came at the close of the one-and-a-half day Summit, which drew more than 200 people representing a wide array of state and local government agencies, from law enforcement and prosecution to victim service programs, social service and mental health agencies and schools.  Advocacy groups and other private nonprofit organizations were also represented.
They heard from state leaders, local officials who have been on the "front lines" in responding to trafficking crime in Virginia, and national experts.    Thursday's luncheon speaker was filmmaker Brook Bello, who is a survivor of sex slavery and who has become a national advocate on behalf of trafficking victims.  She spoke of her own experiences as a trafficking victim and her work as an advocate and counselor for survivors.
In addition to announcing his Executive Directive and consideration of a budget initiative, the governor used the occasion to highlight Virginia's progress in creating a legal framework for more effectively combating trafficking and in taking steps to better coordinate the state's efforts to raise awareness of the problem and the harm done to the victims.  He added that the Coordinating Committee's role will be to be to follow-up on a number of recommendations put forward by an informal workgroup and to develop new recommendations and strategies for strengthening the state's response.
The governor noted that as a result of the hard work of the General Assembly and his Administration, the Polaris Project's 2013 State Rankings moved Virginia into its top category (Tier 1) for its efforts to create an effective statutory framework for fighting human trafficking.  When he took office in 2010, Virginia was ranked by the Polaris Project in its lowest category (Tier 4).