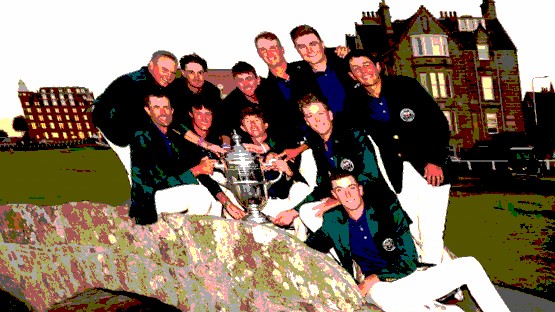 UVA golfer golfer Ben James helped Team USA rally on Sunday to win the 49th Walker Cup at the Old Course in St. Andrews, Scotland.
James, a second-year student at UVA, and Tennessee's Caleb Surratt won their foursomes match 2&1 during Sunday morning's play.
In the afternoon singles, James fell to GB Great Britain & Ireland's Mark Power by one hole. Power, a senior at Wake Forest last season, held a slim lead for much of the match, but James brought it back to all-square with a victory on the 16th hole. Power took a 1-up lead with a birdie on the fabled No. 17 Road Hole and won the match when both players finished with par on the Old Course's final hole.
Great Britain & Ireland had a three-point lead going into Sunday's final two sessions on the Old Course. The Americans won three of the four morning foursomes, and they poured it on during the 10 singles matches.
The Americans won six of the 10 matches and halved two others to complete a Sunday rally in which they outscored GB&I 10-4 over two sessions for a 14.5 to 11.5 victory.
Team USA won the Walker Cup for the 39th time and it marked the seventh time the USA have won at St Andrews and the overall series record is now 39-9-1.