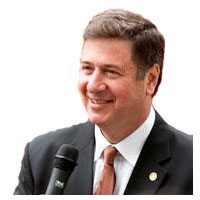 It is a time for choosing.  A time for choosing the best person to motivate and inspire America in the upcoming Republican primaries and pivotal presidential election.
I know and have worked with virtually all of the candidates competing for the Republican presidential nomination.  I will respectfully adhere to my hero, Ronald Reagan's 11th Commandment to not speak ill of fellow Republican teammates.
I have heard from so many people who are yearning for coherent, credible ideas, reforms and solutions to be for, not just against.
During this campaign, like many voters, my wife Susan and I have been most interested in the candidates' specific agenda to reinvigorate our economy and secure our freedom.  Do they understand international manufacturing and entrepreneurial competitiveness?  Will they improve opportunities for Americans with economic, tax, reasonable regulatory, productive energy policies to unleash the full potential of America with more decisions made by free people, in the free enterprise market system?  I want to see a respect for the rights and prerogatives of the people in the laboratories of innovative democracy-the States.
And, I think it is important to assess a candidate's demeanor and discern if their past performance evinces integrity that they will keep their campaign promises.
I grew up in a football family and my father's exhortation for urgent action: "The future is now!" is appropriate, because for America, the future is now.
Susan and I have decided to confidently and enthusiastically endorse the next generation, proven conservative leader who can unite Republicans and inspire people throughout the country-including young people and independents.
We believe that Marco Rubio, with poise, respect, and a genuine appreciation for freedom, has advanced the best ideas and reforms of our tax, regulatory, education and energy policies to improve opportunities for all Americans to catch their dreams.
Marco Rubio understands the interconnection of our world which means our economy must be competitively innovating for Americans to succeed.  We need a president who is grounded in foundational principles and who understands the new challenges facing Americans in this century.  Marco Rubio is the candidate who seems focused and conversant on this transformation of our economy and security.
In his assessment of threats to our country and allies, Marco has demonstrated his knowledge and experience in dealing with them on the Senate Foreign Relations and Intelligence committees.  He will fully fund and rebuild our military. And, Marco has seen that the weaker America's president is, the more dangerous the world becomes.
-That reminds me of Ronald Reagan's 'Peace Through Strength."
We need someone with intelligence and resolve in the White House respectfully working with allies who can trust us.  We need a strong economy to have a strong agile, technologically advanced military.
Susan and I believe that from his family's experiences, Marco Rubio is the strongest leader, effectively articulating an uplifting vision for American's future.  That aspirational vision is driven by his heartfelt quest for individual liberty, personal responsibility, and free enterprise in a more innovative, competitive, prospering and safe America.
The future is now!  And, Marco Rubio has earned my commitment to work hard for his positive, visionary and constructive grassroots campaign to re-invigorate America.
George Allen was governor of Virginia from 1994-1998 and represented Virginia in the United States Senate from 2001-2007.