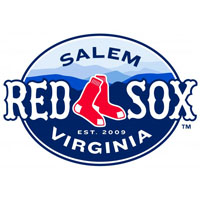 The Keys jumped on Sox starter Simon Mercedes for four runs in the first two innings, providing a cushion that helped Frederick ward off Salem's late comeback in a 5-4 victory on Tuesday night at Harry Grove Stadium. The Red Sox scored twice in the eighth to inch within one, and it looked like the tying run would score on Matt Gedman's hard liner up the middle with two outs. But Frederick shortstop Adrian Marin made a sensational defensive play behind the bag at second, recording the final out to squelch the Sox threat.
Salem's setback, combined with Carolina's 4-3 victory over Lynchburg, tightened the race for the Southern Division wild card spot, bringing the Mudcats to within a half-game of the Sox.
Mercedes inauspiciously walked Johnny Ruettiger to begin the bottom of the first, and three singles ensued to bring home two runs for Frederick. Chih-Hsien Chiang and Jason Esposito picked up RBI, and the Keys might have scored more if not for a 4-6-3 double play to end the threat.
An inning later, the Keys collected five more singles to double their lead, with Ruettiger and Trey Mancini driving in a run apiece to make it 4-0. Once again, Mercedes was on the brink of an even greater disaster, but he induced a 3-6-1 double play with the bases loaded to get out of the jam.
The Sox scored single runs in the third and fifth innings, with Leonel Escobar drawing leadoff walks and scoring in each frame against Keys starter Matt Taylor. The left-hander walked five in five innings, but earned the win anyway, surrendering only two runs on two hits.
Mercedes gifted another run to the Keys with a bases loaded balk in the last of the fifth, and the Keys led 5-2 through five innings. Mercedes permitted five runs on 10 hits, suffering his 10th loss of the season.
Salem's threat in the eighth blossomed thanks to a leadoff walk, drawn by Carlos Asuaje, and a fielding error that allowed Reed Gragnani to reach. Back-to-back sacrifice flies from Jantzen Witte and Mario Martinez brought the Sox within one, and down 5-4, Manuel Margot singled with two outs. He stole second, and Gedman battled through an endless plate appearance, fouling off pitch after pitch. With the count full, Gedman drilled a shot up the middle, but as mentioned before, Marin made the play of the day to keep the Keys in front.
The Sox and Keys will play two on Wednesday, with Heri Quevedo and William Cuevas expected to serve as Salem's starters. Frederick will counter with Steven Brault in game one; the Keys' game two starter is TBD, and the action commences at 5 PM.