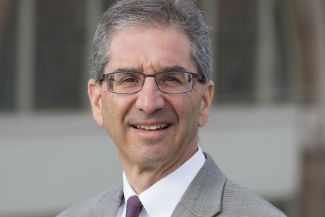 Former Staunton city manager Steve Rosenberg has been named county attorney by the Albemarle County Board of Supervisors.
In the role, Rosenberg will provide legal counsel to the Board of Supervisors and lead the County Attorney's Office.
Rosenberg stepped down as Staunton city manager on Jan. 20, days after news reports that Staunton City Council had held a closed meeting to discuss his employment, and had decided to fire him.
Rosenberg began his tenure as city manager in 2019, and during his time leading City Hall, the city navigated a pandemic, two devastating floods, staffing shortages, disbursement of millions of dollars in federal relief funding, the initial steps in the process of establishing an equity and diversity commission and many other impactful projects and programs.
The May 2020 election saw a Republican majority led by Mayor Andrea Oakes take power, and it was this political change that eventually led to Rosenberg's departure.
"Steve's experience in local government is unparalleled, having served as a counsel at the University of Virginia, a county attorney, and a city manager during his career. His familiarity with our community, its leaders, and our organization will allow him to quickly provide strong counsel to our Board and allow us to continue to advance our local and state-level priorities," BOS Chair Donna Price said.
Rosenberg has more than 25 years of experience in public service in local and state government. Prior to his time in Staunton, Rosenberg held the positions of associate general counsel and special assistant attorney general at the University of Virginia and county attorney for Augusta County.
Rosenberg has a bachelor of arts in history and government from the College of William and Mary and a juris doctor from Emory University School of Law.
"During my nearly two decades as a neighbor of Albemarle County, I've become familiar with the county, most notably its quality of life and the strength of its organization—one committed to excellence and a culture of service. I am excited to join the Board and staff in such a positive environment and to work with them to serve the Albemarle County community," Rosenberg said.