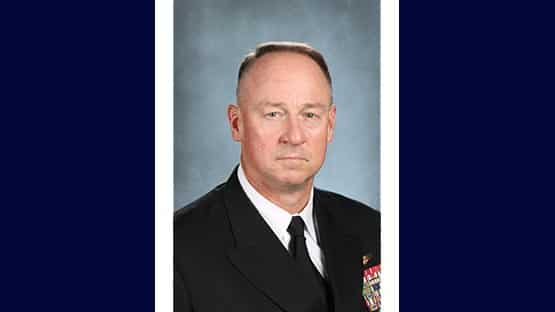 Former Fishburne Military School Superintendent Capt. Mark E. Black has been named the 12th president of Fork Union Military Academy.
Col. David L. Coggins, the current president at the Academy, announced his intent to retire later this year to spend retirement with his wife, Kelli, and their family in Florida.
Black is now designated as president-elect and will assume the role as President upon Coggins' retirement in the fall.
Black is a current faculty member teaching U.S. Military and War History, Leadership and Ethics and U.S. Government. Black also coaches lacrosse and football at Fork Union.
Black, a native of Huntington, W.Va., graduated from Virginia Military Institute with distinction. He was commissioned in the U.S. Navy in 1986 and was designated as a Naval Flight Officer and is a graduate of the famed Navy Fighter Weapons School (TOPGUN).
During his Navy career, Black was selected to serve as a squadron commander and a wing commander before being assigned to lead all Naval personnel in Afghanistan as the NAVCENT Forward Afghanistan Officer in Charge.
Black was commanding officer and professor of naval science at the University of Virginia's Naval Reserve Officers Training Corps Unit and came to the academy from Fishburne Military School, where he served as superintendent.
"Our world needs Fork Union Military Academy, now more than ever, and I am honored to have the opportunity to lead the Academy's in its mission of educating, developing and inspiring young men in a Christian, college prep, military environment," said Black.
"CAPT Black is already a respected and admired teacher and coach. The Board is confident that he is uniquely suited to lead the academy forward from its 125th anniversary while preserving the academy's traditional, Christian values," said Paige Lester Pruett, chairman of the Board of Trustees of Fork Union Military Academy.
Coggins' tenure will be celebrated in connection with the 125th anniversary festivities planned for Oct. 13-15.
"The academy appreciates Col. Coggins' faithful leadership, particularly through the COVID pandemic," said Pruett. "The academy is blessed to have had the colonel's vision and leadership, and we all are excited for him as he embarks on this next chapter of his life with Kelli."
"The Academy is a special place," said Coggins, "and Kelli and I are glad to have been a part of it."
Fork Union Military Academy serves young men in grades 7-12 and postgraduates in Fork Union in the heart of central Virginia.
Related stories
Hunt takes reins as interim superintendent at Fishburne Military School
Change in command: Black stepping down from post at Fishburne Military School
Viewpoints: Meet new Fishburne superintendent Mark Black