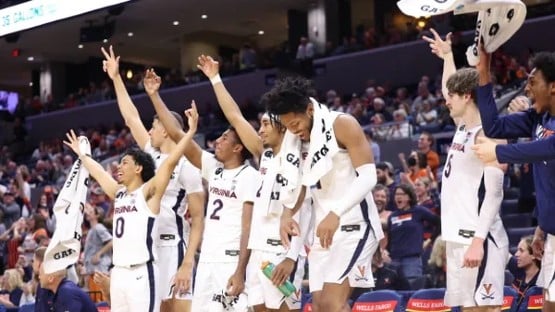 Remember when word leaked out about how Virginia had beaten UConn, 75-69, in a "secret scrimmage" back in October?
The UConn folks took this result as a sign that, hey, maybe we're better than we thought, only losing to Virginia by six.
Kadin Shedrick was, reportedly, the best UVA player in the scrimmage.
Little did we know then that Virginia was already playing as well as it would play this season.
A few weeks later, the 'Hoos would beat Baylor in a high-stakes game out in Vegas, but before November was up, Reece Beekman, who was keying it all early on, sprained an ankle, then injured a hamstring.
Two high-profile games coming out of the exam break had Virginia losing a Top 5 matchup with Houston and on the road at Miami.
Those two teams played last night in the Sweet 16, with Miami dominating the overall top seed Cougars.
UConn plays tonight in the Elite Eight.
Virginia didn't make it out of the first round.
The Beekman factor
The first factor I'm attributing the fall from a Final Four ceiling to getting bounced in the first round to is Beekman's health.
An ankle is one thing, but a hamstring doesn't get better without rest, which is why NBA guys with bad hammies end up sitting for weeks.
Beekman tried to play through his, and his numbers are an indication of how he wasn't the same after.
Before the injuries, Beeks was averaging 11.8 points and 5.2 assists, shooting 46.8 percent from the floor and 57.1 percent from three-point range.
Those numbers were what had Beekman getting first-round mock draft love.
He finished up strong: in his final six games, Beekman averaged 9.5 points and 6.7 assists per game, shooting 42.0 percent from the floor and 25.0 percent from three (OK, not as strong from three).
In between: 8.8 points and 4.8 assists per game, shooting 38.1 percent from the floor and 31.4 percent from three.
That's a long stretch of replacement-level Beekman.
This is no doubt a factor in how the offense took an extended dive off the cliff as the season played out.
Virginia ranked fourth nationally in adjusted offensive efficiency heading into December, but with Beekman ailing, the offense reverted to last year's mean.
The group last season averaged 1.076 points per possession, per KenPom.com, which ranked 85th nationally.
From that high-water mark of fourth nationally heading into December, at which point Virginia was averaging 1.164 points per possession on the season, it was a free-fall – the Cavaliers ended up averaging 1.108 points per possession, ranking 74th nationally.
The BVP-Shed conundrum
There was a brief blip of improvement in offensive efficiency after Tony Bennett inserted Ben Vander Plas in at the five in place of Shedrick to try to spread the floor with BVP's ability to shoot from the perimeter, but that fizzled out when Vander Plas suffered a back injury that, like Beekman, he tried to play through.
Shedrick, the best player in the "secret" win over UConn in October, barely got off the bench for nearly two months after the switch, getting a total of 107 minutes over a 14-game stretch spanning nearly two minutes after his demotion.
In the season's opening six games, through the first Beekman injury in the Michigan game on Nov. 29, Shedrick had built on that "best player" eval from the UConn win in impressive fashion, averaging 11.3 points, 4.5 rebounds and 2.0 blocks, shooting an otherworldly 78.6 percent from the floor.
Like Beekman, Shedrick finished strong. After Vander Plas was lost for the season with an injury in practice on the eve of the ACC Tournament, Shedrick was unbolted from his spot on the bench, and put up 8.0 points, 7.0 rebounds and 2.8 blocks per game over the final four games of the season, shooting 61.1 percent from the floor.
In the NCAA Tournament loss to Furman, Shedrick played the game of his life – 15 points on 5-of-9 shooting from the floor and 5-of-6 at the line, 13 rebounds, four blocks.
But he didn't get off the bench in the loss at Virginia Tech, got a total of 18 minutes in the loss at Boston College and UNC – losses that piled up as it was obvious that Vander Plas was limited by the back injury.
Exit interview: What could have been done differently?
The Beekman factor: I'm not a doctor or a trainer, but just from a look at the numbers, maybe it would have made sense to not push Beekman to play through the hamstring injury.
Just judging from his body language, he never did seem 100 percent after the Michigan game.
The BVP/Shedrick conundrum: I wrote multiple columns after the brief blip of offensive life from the move to go with Vander Plas at the five spot pointing to how the new lineup had lost its steam, and yet Bennett continued with Vander Plas at the five, even as we would learn later about the back injury, which we have to assume was the reason for his individual counting-numbers decline, which itself had to have been a factor in the overall offensive decline.
Word eventually got to us that one factor in not making a change back to Shedrick was that Shedrick wasn't practicing well enough to earn his minutes back.
That's on the kid, sure, but it's also on the staff. The early-season Shedrick was on track to being an All-ACC player. Shedrick might have needed to respond better to being benched, but the staff needed to do what was necessary to get him to respond better.
That one is a two-way street.
The impact of Nov. 13
This was a tough season for all involved. We can't forget what happened on Nov. 13, and yes, that was a tragedy that took three lives of members  of the UVA football team, but keep in mind, the athletics community on Grounds is tight-knit.
There were multiple friendships between members of the football and basketball teams involving those who lost their lives on the night of Nov. 13.
There was obvious emotion for the hoops team when they went out to Vegas and beat Baylor and Illinois just days after the shootings, and it's not hard to imagine that there was something in the way of emotional wear-and-tear that you could add to the physical toll of the injuries to Beekman and Vander Plas that we'd need to factor in for this team this season.
It will be OK
This team finished 25-8, was the ACC regular-season co-champ, played its way into a #4 NCAA Tournament regional seed, and if not for a perfect-storm play in the final seconds of the upset loss there, would have at least gotten to the Round of 32, and who knows what happens from there?
It hurts after what we saw in the early part of the season to see it end earlier than it probably should have, but when you look around the college basketball landscape, there are a lot of fan bases that are going through similar hurt right now.
And hey, at least Duke didn't get out of the first weekend.