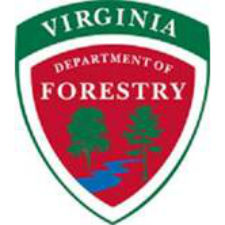 Fall is an ideal time to plant new trees. The best way to keep trees healthy is by planting the right trees in the right places where they naturally grow best.
Homeowners see many benefits to planting trees on their property.  Trees provide shade, fruit production, spring and fall color, wildlife habitat and privacy screening. Trees also reduce cooling and heating costs and increase property value.
Native trees can accomplish these objectives and grow well in Virginia yards. As you determine "what you want," you'll need to find out about your property's soil, slope and drainage. Consider the growth conditions and available planting space for the tree. Are there any overhead or underground limitations, such as power lines and other utilities? Think about the lifespan of the tree; the size it may reach, and how far it should be planted from your home.
Here are some points to consider when selecting and planting trees on your property:
Root expansion. Roots will expand well beyond the range of the canopy space. Depending on their eventual size, trees should be planted 15 – 30 feet from a house and 10-feet from a sidewalk or other pavement.
Shade. Find out the shading pattern and density for a particular tree. Consider which side of your home will be shaded as the tree grows.  Energy conservation can be achieved by planting deciduous trees on the west and south sides of a home, or evergreens on the north side.
Deer. You may need to protect trees from deer rubbing their antlers on the young trunks and from feeding on the lower branches and leaves.
After you've gathered the site conditions, consult online native tree resources for information including growth characteristics, native ranges, fall colors and proper planting sites.
Tree maintenance, such as pruning, is necessary to ensure the tree's health. Maintenance is cheaper when the tree is young. Consider a tree's long-term maintenance needs, both for you and the future homeowner.
Call before you plant. Don't wait until the last minute – call "Miss Utility" at 811 or 1.800.552.7001 to have your utilities marked. Allow three business days for marking.  After you provide your address and project information, contractors will find and mark your lines in the area where you plan to dig. Homeowners should locate their own water and sewer, or well and septic lines prior to digging. To learn more, visit "Homeowners" at www.va811.com.
Dig deep. As you dig the planting hole, remove grass from a three-foot circle around your new tree.  The hole should be deep enough that the top of the root system is at ground level.
Planting. Remove the tree from its container or burlap. Inspect the roots – roots growing in circles on the outside edge of the rooting medium but inside the container are called "circling" roots. Prune out these and descending roots so they can expand and grow in the planting hole.
Mulch. Mulch is a great way to maintain soil moisture and moderate soil temperature.  Over time, mulch decomposes and this organic matter improves the soil. Mulch the entire planting site to a depth of 2 or 3 inches. Mulch wide, but not deep, and make sure the mulch does not touch the stem/trunk of the tree.
Water. Sufficient watering is critical to the survival of your tree. A newly planted tree needs water regularly even in the fall.  The roots will continue to grow all winter when the soil is not frozen, so by planting in the fall you get a head start on establishment. Don't over-water or super-saturate the soil. Monitor your tree during dry periods by checking the soil moisture under the mulch, to be sure it gets adequate water.
Trees are a wonderful way to beautify your yard, increase your property value, save energy and benefit your community. Your trees, when thoughtfully chosen and properly planted, will fulfill these goals for years to come.