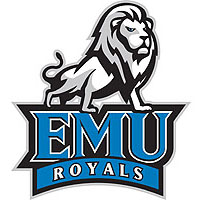 Famous NBA basketball player Tim Duncan once said, "Good, better, best.  Never let it rest until your good is better, and your better is best."  Continuous improvement is the key to success.  This week's Royals Athlete of the week is being award to Caleb Schlabach (Millersburg, Ohio/Hiland) for demonstrating his ability to significantly improve every round this fall on the golf course.
Last weekend the Royals showed continued improvement in the third year of their program's history, as Caleb helped his team reach some noteworthy milestones.  In their second tournament of the season, their 325 total on Sunday was just three shy of the program record of 322 set last fall at the Ted Keller Memorial on a par 70 course.  Their two-day score of 662 on a par 71 course at the Shenandoah Invitational in Front Royal, Va., was just two strokes away from the best tournament total in program history, a 660 also set at last year's Ted Keller.
Caleb has shown a trend of improving every round so far this fall and finished at a season best of 163 last weekend.  He shot an 85 on Saturday and on Sunday shot below 80 for the first time, setting his best collegiate 18-hole score at 78.  Both of those scores are much improved from his first tournament scores this season of 99 and 89.
It is clear that Caleb's personal improvement helped impact his team last weekend in having their best tournament of the season.  The experienced junior has been putting in a lot of practice to help his game.
"Lately I've been working a lot on my iron and short game," said Caleb.  "[Hitting] lots of balls at the driving range, around the putting green, and just focusing on the fundamentals of the swing."
The Ohio native was introduced to golf by his grandpa when he was a seventh grader.  Caleb went on to play on his varsity golf team in high school for four consecutive years.  The more Caleb played, the more he started to enjoy it.
"I like the mental aspect of the game," explained Caleb.  "Also I like being out on the golf course, because it can be just you there, but it's still competitive because you're competing against yourself."
In the classroom, Caleb is double majoring in two very artistic fields, digital media and photography.  He loves the creativity aspect that is involved in his projects, even though they can be profoundly time consuming.  So how does Caleb manage a collegiate sport and two majors?
"I don't sleep," Caleb said seriously, before breaking out in huge laughter.  "Being a student athlete taught me how to manage my time more than if I had not been playing golf.  I create lots of lists and check them often to stay organized."