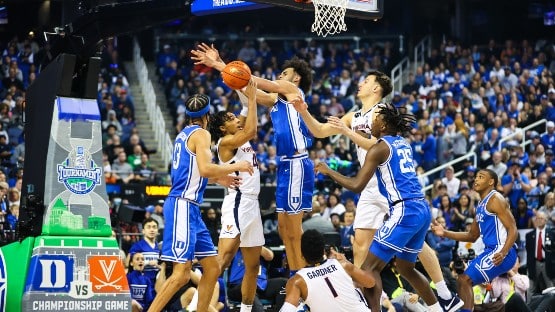 Virginia never could get things going on offense, shooting 33.3 percent on the night against a stout Duke defense.
The 'Hoos did cut a late nine-point deficit to four in the final minute, but Duke closed the game out at the line for a 59-49 win to take home the ACC Tournament championship on Saturday in Greensboro.
The win was the ninth in a row for Duke (26-8) since a 69-62 OT loss in Charlottesville on Feb. 11.
UVA (25-7) was able to hang around despite shooting just 27.3 percent in the first half.
Good defense from the Cavaliers kept them within hailing distance, down 24-17 at the break.
With the tough times against the tight Duke D, Duke also had a few bounces go their way – the most frustrating for the Virginia side being two early second-half jumpers by Jeremy Roach that hit front rim, bounded high, and then somehow in, that helped the Blue Devils maintain a working margin.
The game was a slog.
And yet, ugly as it was for the Cavaliers, an Isaac McKneely three got Virginia within six, at 38-32, with 8:32 to go.
Duke responded with a quick 5-0 run, punctuated by a dunk after a steal by Kyle Filipowski, who had 20 points and 10 rebounds, that pushed the lead back to 43-32.
Credit to Virginia for hanging around, though. A Reece Beekman driving layup got the deficit down to 52-47 with 1:46 to go, and after a Roach miss, Kihei Clark scored on a drive to the bucket to get the lead down to a five.
A Filipowski free throw made it a six-point game. Another Beekman drive and bucket got the game to 53-49 with 46 seconds to go.
That was as close as it would get.
Roach made two free throws, then McKneely missed from three, Roach rebounded and was fouled, and made two more charity tosses with 30 seconds left.
That was basically it.
Such is life.
Duke shot 42.2 percent. Roach scored 23 to lead the Blue Devils.
Beekman had 12 points and four assists for UVA, which got 10 points from McKneely.
Armaan Franklin and Jayden Gardner each finished with seven points, and Kihei Clark had six, on 1-of-9 shooting, and had just one assist.
Your telling stat of the night: Virginia had just nine assists, and just 16 made baskets.
Both teams are expected back at the Greensboro Coliseum next week for the first round of the NCAA Tournament.
The Greensboro pod plays on Friday-Sunday.
Box score