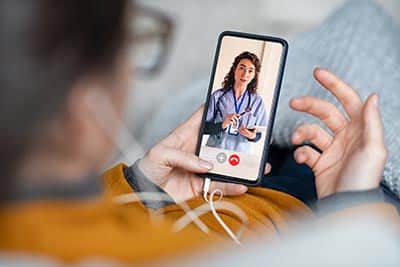 Doctors across the state are volunteering their time to provide free medical care to those in need anywhere in Virginia. The program was launched by Lackey Clinic, a free and charitable healthcare center serving the uninsured.
"Our program is designed to provide easier access for people with immediate needs who do not have a primary care physician," said Larry Trumbore, CEO of Lackey Clinic.
Anyone in the state of Virginia can book a virtual video appointment online with one of the doctors for an urgent but non-life-threatening condition.
"It is so gratifying to help patients that really need the help," said Dr. Ralph Robertson, who volunteers from his home in Kilmarnock. "Many, when they come to us are feeling desperate because they are in pain and afraid because they can't imagine how they will find or afford the care they need."
Although Lackey Clinic is located in Yorktown, technology has allowed it to expand its impact statewide.
"The team at Lackey Clinic has set up a seamless telehealth platform and urgent care process that patients have continually said is easy to understand and use," said Dr. Sadhana Rajamoorthi, who volunteers from her home in Vienna. "I volunteer on Wednesday mornings, and I will say it is one of my most anticipated times of the week."
The doctors have enjoyed the flexible schedule volunteering in the program provides.
"I chose to leave my paid physician job to stay at home with my kids while they are both so young," said Dr. Margaret Lynch, who volunteers from her home in Washington, D.C. (licensed in Virginia). "I knew I wanted to find a way to remain involved in clinical medicine. I truly feel like I've made a small difference at the end of each volunteer shift."
Since the patients can be located anywhere in the state of Virginia, the doctors refer the patients to the nearest clinic in Virginia's network so they can follow up and receive regular primary care.
Lackey Clinic is one of 60 free and charitable clinics across the state who are members of the Virginia Association of Free and Charitable Clinics, which works to strengthen and promote a robust, high-quality, free and charitable clinic system.
The expansion of free virtual urgent care combined with the ability to refer patients within the network of other free clinics could have a huge impact statewide.
"Every person deserves access to basic healthcare services, and Virginia's network of free and charitable clinics are there to provide accessible and inclusive services to those that fall through the gaps of the healthcare system," said Rufus Phillips, CEO of the VAFCC. "The clinics serve as a safety net to those in need by providing patients with a medical home and a pathway to better health regardless of their ability to pay."
To book a virtual urgent care appointment, visit lackeyclinic.org/urgent