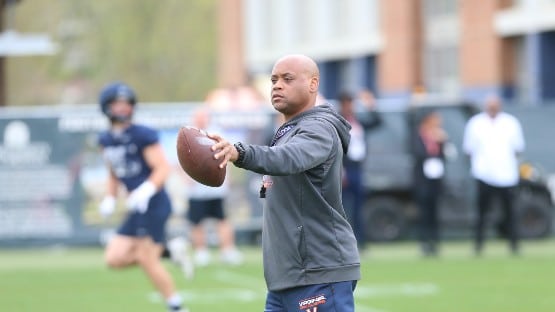 Virginia offensive coordinator Des Kitchings will have his work cut out for him tomorrow in Nashville, as he'll look for ways for his unit to put some points on the board against a ferocious Tennessee defense.
Now in his second season in charge of the UVA offense, Kitchings had several holes to fill following the graduation and/or transfers of a few key pieces on that side of the ball.
With Brennan Armstrong now at NC State, and with Jay Woolfolk officially moving on from football to concentrate on his future baseball career, it's up to Monmouth transfer quarterback Tony Muskett to lead the Cavalier offense.
Muskett was officially named the starter on Tuesday, and he will have some big shoes to fill. Armstrong threw for more yards than any other quarterback who has put on a UVA uniform (9,034), despite a subpar season in 2022.
Muskett won over Tony Elliott and the Cavalier coaching staff with his confidence from day one, and put up some decent numbers at the FCS level. Last year, the Springfield native completed 64 percent of his passes and threw for 1,997 yards and 17 touchdowns (8 interceptions) in his eight starts before suffering a season-ending knee injury.
Kitchings has faith that his new signal-caller — who ran a similar pro-style system with Monmouth — will be able to settle in quickly and move the chains, if he's not running for his life all day.
"I expect him to play with the same temperament that he's approached everything," Kitchings said of his QB1. "Very even-keel, and just be a point guard. Just distribute the ball, make smart decisions like he's done, getting the right checks, throw it to the open guy and use his fundamentals — that's his strength — and then the rest will take care of itself."
True freshman Anthony Colandrea will handle the backup duties after he gave Muskett a run for the No. 1 spot in fall camp, but it would be quite a difficult task for any quarterback to face such a talented defense in their first college contest.
The Wahoo running back room is deep, experienced and talented. Everyone but Ronnie Walker Jr. is back, plus there are a few "new" faces. Sixth-year starter Perris Jones (81 carries for 365 yards in 2022) and primary backup Mike Hollins (53 carries for 215 yards) are both back for one more year to lead the way.
Clemson transfer Kobe Pace adds three years of experience, and had his best season as a sophomore with the Tigers in 2021, when he rushed for 641 yards and 6 touchdowns. That same year, he ran for a career-best 125 yards against Boston College, adding 41 receiving yards and 44 kick-return yards for an all-purpose total of 210.
Kitchings revealed recently that he will go with a by-committee approach, which will likely be distributed among that trio of backs, but it's possible to see Xavier Brown, Amaad Foston, Cody Brown and Jack Griese sprinkled in from time to time throughout the campaign as well.
"We feel like we have a really good rotation of guys in the backfield that can stay fresh, especially early in the season," Kitchings said. "It would be a committee approach, and then as the game flows and one guy is getting hot with the ball, then we can cater things toward him. But the initial attack will be as a committee."
The Cavalier OC also pointed out that all of the running backs are capable of catching passes out of the backfield, and with the dangerous pass-rush of the Vols, we could see a significant amount of that tomorrow.
With last year's top two receivers — Keytaon Thompson (579 yards) and Dontayvion Wicks (430) — out of the mix, along with the unfortunate passing of Lavel Davis Jr., the torch has been passed to junior Malachi Fields, Northwestern grad transfer Malik Washington and senior speedster Demick Starling to carry the load.
Fields, who attended nearby Monticello HS, only saw action in one contest due to an injury last season, but the 6-foot-4, 220-pounder showcased his abilities with 5 catches for 58 yards and his first career touchdown in what turned out to be the season finale against Pitt.
Washington (5-8, 194) had a couple of productive seasons with the Wildcats prior to making the move to Charlottesville. As a junior in 2021, he registered 578 yards and a pair of touchdowns on 44 catches, then last year as a senior went for 694 yards and a score on 65 receptions.
While Starling (6-0, 191) has amassed just 11 career grabs for 188 yards, he's expected to see a significant increase in targets this season. Sophomore JR Wilson and freshmen Suderian Harrison and Jaden Gibson should all be available to step in for a play or two as well.
Senior Sackett Wood and sixth-year Grant Misch are a pair of reliable, veteran tight ends who Muskett can look to as safety valves. When it comes to returning players behind the running-back trio of Jones, Hollins and Brown, Wood was next on the team in yards from scrimmage last season with 165 — on just 12 receptions.
Everything will depend on the strength and stability — and health — of the offensive line. The starters will be junior Ty Furnish (6-3, 282) at center, junior Noah Josey (6-5, 315) at left guard, Dayton grad transfer Brian Stevens (6-2, 296) at right guard, sophomore McKale Boley (6-4, 302) at left tackle and Houston senior transfer Ugonna Nnanna (6-4, 309) at right tackle, along with Wood (6-4, 244) starting at tight end.
Kitchings said he's feeling "pretty good" about his O-line heading into the opener, especially after getting some guys back who were dealing with injuries throughout the offseason. He praised first-year offensive line coach Terry Heffernan for how he's been able to step right in for Garett Tujague and "develop" this year's group.
"[We've] obviously got to put it together on Saturday," Kitchings said. "It'll be a great test for us, and the guys, the coaches, we're all looking forward to it."
He added that the success of the offense Saturday will revolve around what transpires in the trenches, stressing that his team must win the one-on-one matchups and not allow the Vols to penetrate and create pressure on Muskett with consistency, particularly untouched, or it could be a long afternoon.
"Ties are wins," the coach said of not getting blown up at the point of attack. "Obviously [we] want to change the line of scrimmage, but a tie is a win. If we can do that, give our backs a crease, give Tony time to get the ball out, we have a chance to move the ball and a chance to put points on the board."
When asked about turning last November's tragedy into triumph, Kitchings said it's all about just getting back on the field and representing Virginia on a national stage with pride and resiliency.
"Really it's just as a program, we just get to showcase to everybody like who we are," said Kitchings. "We're a strong team, full of heart and pride and passion, and we've come together even more so after the tragedy, and we've had a great spring, we've had a great training camp. Now these kids get a chance to go put it on display on Saturday."