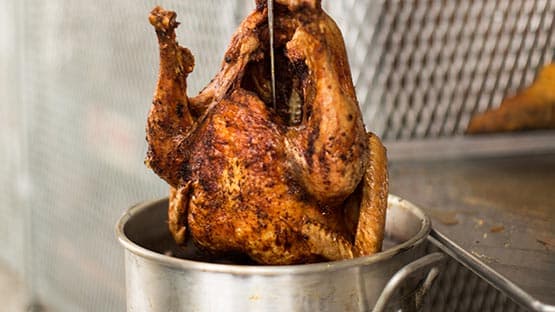 Deep frying a turkey for Thanksgiving is an increasingly popular tradition for many, but it's important to keep safety top of mind.
While flavorful, juicy meat and crispy fried skin are benefits of deep-fried turkey, working with large amounts of bubbling hot oil can lead to safety issues and fire risks.
According to the National Fire Protection Association, deep fryer fires cause an average of five deaths, 60 injuries, the destruction of 900 homes and more than $15 million in property damage each year.
"Thanksgiving is a great time to enjoy a meal with family and friends, but please use caution, especially if you may be trying this method to prepare your main dish," said Dana Fisher, chair of the Virginia Farm Bureau Federation Safety Advisory Committee. "Always fry a turkey outside in a grassy or dirt area, and wear protective clothing in case of oil splatters."
To stay safe while frying a turkey, follow these tips from the U.S. Fire Administration:
Keep children and pets at least 3 feet away from the turkey fryer.
Turkey fryers can easily tip over and spill hot oil over large areas. Secure the fryer by keeping it on a sturdy, level surface, and do not move it once it is in use.
Keep the turkey fryer outside and at least 10 feet from your home and any structures. Don't use it while it is under any roof eaves or overhangs or in a garage.
Do not overfill the cooking pot. Measure the amount of oil needed by filling the fryer with water and placing the turkey in the pot. The water level shouldn't get too close to the top, which can cause spilling when the turkey is put in.
Make sure the turkey is completely thawed before cooking. A partially frozen turkey will cause cooking oil to splatter.
Monitor the oil temperature by using a kitchen thermometer or a fryer with a thermostat. Fryers can overheat oil to the point of starting a fire.
Use protective oven mitts or gloves. The fryer's sides, lid and handles can get dangerously hot.
Keep a fire extinguisher on hand. Do not use water to put out a grease fire.
Consider using an electric or air fryer