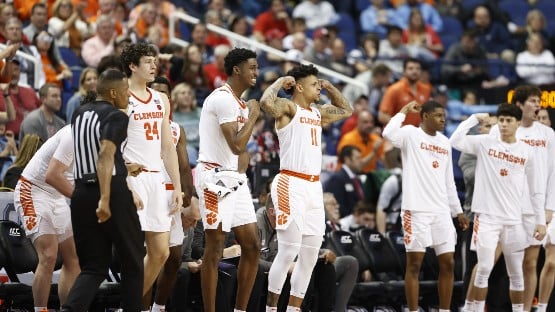 Clemson, needing a win to keep its NCAA Tournament hopes alive, took control with a massive 31-6 second-half run that blitzed NC State out of the ACC Tournament by an 80-54 final on Thursday night.
The Tigers (23-9) led by just three, 39-36, at the break, and it was 45-42 Clemson four minutes into the second half when the floodgates opened, fueled by defense.
State (23-10) missed 20 of its last 24 shots from the field in the final 17:03, on its way to shooting 25.0 percent from the field in the second half, including missing all 10 tries from three-point range.
Clemson got 15 points each from Ian Schieffelin and PJ Hall in the blowout, and shot 50 percent from the field (28-of-56) on the night.
The win sends the Tigers into the ACC Tournament semifinals against Virginia (24-6) Friday at 9:30 p.m.
The two teams just met last week in Charlottesville, with UVA winning that one, 64-57.
The predictive data website KenPom.com lists the Cavaliers as a slight one-point favorite.