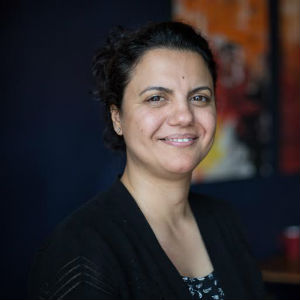 Can restorative justice work in countries where justice is elusive and rule of law suspect? Najla Mangoush argues it can in a June 2015 special report titled "Customary Practice and Restorative Justice in Libya: A Hybrid Approach"  published by the United States Institute of Peace (USIP). But she doesn't claim it will be easy.
"Restorative justice is a new concept for Libya," said Mangoush, who graduated in May with a master's in conflict transformation from Eastern Mennonite University's Center for Justice and Peacebuilding (CJP) and will begin doctoral studies at George Mason University.
In her native Libya, punitive law is much more common. But following the overthrow of long-standing Libyan dictator Muammar Gadhafi, rule of law has virtually disintegrated and reconciliation efforts have been short-lived and unsuccessful.
Mangoush says restorative justice can provide a foundation for peace. "In integrating restorative principles with customary practices — thereby transforming the relationships that sustain violence — Libya would create the opportunity to move toward peace and stability," she writes.
Restorative justice helpful in other war-torn countries
Mangoush, who came to Harrisonburg with her two daughters as a Fulbright scholar two years ago, is a USIP country representative in Libya. Before the revolution in 2011, she worked in Libya as a criminal lawyer and enjoyed opportunities not available to many women in Muslim societies.
But opportunity didn't translate to freedom, she said. Under Gadhafi, militants perpetrated rampant human right violations and violently suppressed political dissidents. She supported the movement to remove him from power. What she didn't anticipate was that without a strong government to step in, extremists would rush to fill the power void.
Now two warring factions fight for control — both sides have inflicted substantial harm on each other and the Libyan people. "Legalistic and punitive processes will not be enough for Libya to make the transition from war to peace and to address its legacy of violence," she says. "To do so, the country must also turn to restorative justice and its focus on the needs of victims, offenders, and the community."
Mangoush's idea of using restorative justice combined with Libyan customary law is innovative, but not unheard of. A similar plan was used with some success in Somaliland, she said.
In both countries, customary law works like this: traditional leaders who are considered neutral to a conflict are called in to mediate a disagreement. The leaders listen to both sides, gain trust and then suggest a solution. Customary law in Libya, called Solha, is a local concept, which the leaders use to refer to the customary law. The word Solha means "restoration" in the English language; it is an embedded mechanism within the Libyan society to resolve conflict in Libya by which the traditional leaders act as mediators between the victims and the offenders to handle the wrongdoing. One of the significant strengths within the Solha process is the idea of building social capital that promotes alliances and trust between tribes and leaders.
In her report, Mangoush suggests that training native leaders in restorative techniques could provide traditional leaders with the skills they need to provide societal-wide trauma healing.

Second report features interviews with Libyan leaders
Restorative justice is a concept Mangoush encountered at EMU, a place where she also learned "how to respect cultural context." The report — written at the suggestion of her mentor and CJP professor Catherine Barnes — helped her to "test the ideas I learned [at EMU], and inspired by the father of restorative justice Howard Zehr creatively find a way to implement them in Libya."
USIP special reports such as Mangoush's offer research and practical problem-solving approaches to a wide variety of issues: recent reports covered Afghan President Ashraf Ghani's outreach to Pakistan; the effects of energy shortages in Pakistan; land conflict in Afghanistan; and lessons learned from failed relations between Hamid Karzai and the United States.
A second USIP publication by Mangoush will include interviews with approximately 10 Libyan leaders about the potential of her proposed strategy to heal conflict.
"If Libya is to overcome its legacy of violence and division, and heal the traumas of its recent past, it needs to restore (or in some cases nurture) relationships between individuals, groups, and communities," she concluded. "Certainly, obstacles to [restorative justice's] use in Libya are significant," but the opportunity to combine restorative justice and customary law may be the key to repairing the health of Libyan society.
Article and photo by Kara Lofton