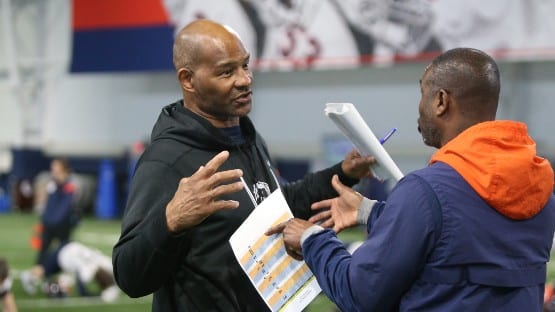 Virginia struggled in the first year under new football coach Tony Elliott, but it wasn't because of the defense, which made marked improvements under first-year coordinator John Rudzinski.
The pass rush was maybe the most improved unit on that side of the ball, averaging 3.0 sacks per game in 2022, almost double the output – 1.58 per game – from 2021.
Virginia football legend Chris Slade, who still sits atop the ACC career sack list, with 40 sacks over his four-year career on Grounds, from 1989-1992, returned to his alma mater last year to coach the defensive ends.
Slade thinks his unit can build on and improve upon last year's numbers.
"I'd say we're light-years ahead of where we were at last year, this time last year," said Slade, whose unit returns Chico Bennett Jr. (seven sacks, four quarterback hurries), Paul Akere (four sacks, two QB hurries), Kam Butler (three sacks, three QB hurries) and Ben Smiley (1.5 sacks as an interior D-lineman last year).
This time last year, with Rudzinski just beginning to install his 3-4 stack defensive scheme, "we were just trying to get guys lined up," Slade said.
"Now, it's about guys lining up the right places, it's working on techniques, and the small details."
Slade looks to see Smiley (217 snaps, 37.6 Pro Football Focus grade in 2022) make a big leap in terms of productivity moving back outside.
"I think Ben Smiley could be one of the best defensive linemen in the ACC this year," Slade said. "He has loads of potential. He's super explosive. He's very, very good. And he's very intentional in what he wants to do. He plays hard. He works hard. He can rush the passer. I think he's a guy that you wanna look at."
For Smiley, a 6'4", 274-pound fifth-year senior, defensive end is his natural position.
"I think this is where he's most comfortable. I think this is where he could be the most effective to help us win," Slade said. "He's just a natural edge-rush pass-rusher. He's a vertical guy, but inside, you've got to be able to move vertical, and you've also got to move horizontal. But when he can get on the edge and move vertical, he can be disruptive. I mean, he might not have a lot of sacks, but the guy can be super disruptive. He can wreck your backfield. He's just a guy I'm really excited about working with this year, because I think that he has potential this guy could play on Sundays, in my opinion."
Kam Butler is back for a sixth year of college football, taking advantage of the extra year granted by the NCAA to UVA seniors after the 2022 season was cut short following the Nov. 13 murders of football student-athletes Devin Chandler, Lavel Davis Jr. and D'Sean Perry.
Butler (575 snaps, 70.4 PFF grade in 2022) is going to be used some at defensive end and some at bandit, basically standup outside linebacker, which is something that will take some getting used to.
"First day was a little uncomfortable. You can tell by the film, too. I kind of look weird. But just getting more and more comfortable every day," said Butler, who played some outside linebacker at Miami-Ohio, where he recorded 17 sacks and 52 QB hurries in his four seasons there.
Butler, listed at 6'3", 265 pounds, also has an interception on his career ledger, and talked up reporters last week about his "soft hands."
"For the most part, I kind of had my hand in the dirt for the past five seasons. So, I like it. I like standing up. I like both positions, but I think bandit's a little more fun. But yeah, just getting used to it every single day," Butler said.
To Slade, the focus with Butler this spring will be on getting him to learn the bandit position, but also, the coach wants to manage Butler's snaps in practice.
"Kam has more snaps than anybody in this program. I mean, that guy had a ton of snaps coming in here last year out of Miami-Ohio. So, what I'm going to do is I'm going to manage his snaps the spring just so we can have a guy, he's got a long season, he kind of wore out a little bit last year. So this year, I think we've got to be smart on how we manage the snaps," Slade said.
Paul Akere, a 6'4", 275-pound fifth-year senior, is back for a second year at Virginia after transferring in from Columbia. Akere (250 snaps, 65.7 PFF grade in 2022) "is just a really, really smart, young man," Slade said.
"He's super strong. We've just got to get him, his technique's gotta get a little bit better. But that comes with coaching," said Slade, adding that he's never met a player as advanced as Akere academically.
"He's super coachable, he's humble, he's strong guy, and he wants to go to law school. He's been to Colombia, and now he's getting a UVA master's degree. I mean, he's what you want in a student-athlete that represents his university very well," Slade said. "I'm looking for big things out of him. He plays very hard. He can be he'll be one of those guys that you won't talk about much, but you look up, he'll have seven, eight, nine sacks this season.
Akere is back for a fifth year of football for lots of reasons, but chief among them: "I think I haven't reached my potential on the playing field."
"It's just, being back on the grass, realizing how much fun I've had over the past few years, of course, my life played on this field, like, there's really nothing that replicates this," Akere said. "I'm just grateful to have the opportunity to continue playing, and the way the last season ended, there was so much that we had left on this field, and just to honor the people that we lost, I feel like it was in my best interest and my team's best interest for me to come back and bring it back and see what we're capable of."