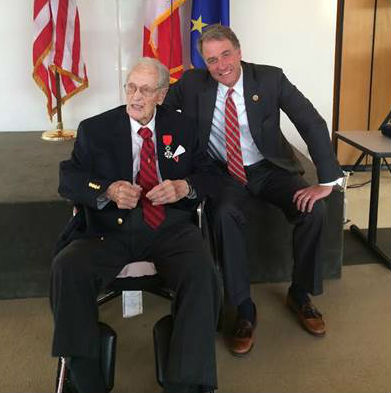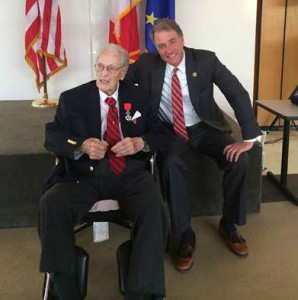 Congresman Robert Hurt (R-Virginia) attended a ceremony at the French Embassy in Washington, D.C. in honor of World War II veterans who received the French Legion of Honor, the highest decoration in France, for their service on D-Day.  Captian John Leys of Charlottesville was awarded with the Legion of Honor today for his role in liberating France from Nazi German occupation.
The Consul General of France, Olivier Serot Almeras, hosted the ceremony where Captain Leys was honored.  A native of Lynchburg, Captain Leys lived in Norfolk at the conclusion of World War II and later returned to Lynchburg.  He now resides in Charlottesville with his daughter and son-in-law.  During the war, he was a Commanding Officer of U.S.S. Landing Craft Infantry LCI (L) 510 with a crew of 31, which landed hundreds of soldiers on Omaha Beach on D-Day.  He then went on to lead his crew in ferrying soldiers, nurses, and equipment to and from Omaha Beach and England, ultimately joining all 31 in his command in returning home safely from the war.
Captain Leys also served as Captain of the University of Virginia (UVa) football team in 1935, and today, at age 100, he is the oldest living captain of a UVa athletic team.  He holds the record for longest reception at UVa (97 yards).
Following the ceremony, Congressman Hurt said, "It was an honor to witness this event today, and I extend my most sincere congratulations to Mr. Leys upon receiving this recognition for his bravery and service to our nation and the world.  We are forever grateful for the selfless sacrifices he has made in the name of liberty."