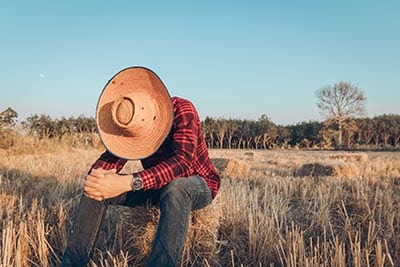 A recent American Farm Bureau Federation research poll found that farmers and rural residents are increasingly comfortable discussing stress and mental health challenges, and stigma around seeking help or treatment has decreased in rural and farm communities.
Last summer, the Virginia Department of Agriculture and Consumer Services launched the AgriStress Helpline in Virginia to provide farmers with mental health support.
A Central Virginia farm family was faced with a mental health crisis in 2020 – but found help through telehealth appointments, defined goals and new coping tools.
While the couple is anonymous in this article, their story is relevant to many farmers dealing with struggles to succeed.
The husband regularly dealt with farm stress, but his emotional state became out of character, and his wife felt blindsided.
"It was a slow-motion trainwreck," the husband said. "I knew my thoughts were irrational, but it didn't matter. The train left the station and there was no stopping it until it derailed."
He eventually called a friend and disclosed his struggle.
"The next day he was at my house and rode the combine with me all day," he said. "It was very reassuring that I wasn't in this alone."
His wife reached out to other friends, who helped him find a therapist willing to take new patients. He began telehealth appointments.
"I'd like to think we're more open and accepting to talking about these issues than previous generations," he said.
His message to the agricultural community – be vulnerable with each other.
"They're probably fighting something themselves," he said. "And it might start an important conversation."
The research poll may be found here.
The AgriStress Helpline is available for farmers to call or text at (833) 897-2474.
For more information, visit https://www.agrisafe.org/agristress-helpline/