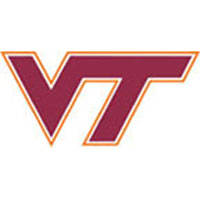 Virginia Tech football had this Saturday circled on its calendar from the moment the 2014 schedule was released earlier this year. Ohio State, in the Horseshoe, a chance for the Hokies to get a program-defining road win against a national power.
And now the game looks that much more winnable with Braxton Miller, the Buckeyes' senior quarterback, out for the season with an injury suffered in training camp last month. Miller's replacement, redshirt freshman J.T. Barrett, looked good in his first start, a 34-17 win at Navy last weekend, completing 12 of his 15 passes for 226 yards and two touchdowns and running for another 50 yards on nine carries on the ground.
But now Barrett faces a Tech defense led by one of college football's master defensive strategists, Bud Foster, who is not likely to allow ohio state to gash his defense the way the Buckeyes were able to run through Navy's front seven, to the tune of 218 yards rushing on 40 carries. Foster, from the beginning of time, stacks the box with eight, sometimes nine defenders, leaving his corners on an island in a calculated risk-reward that allows his defense to control the opponent's running game.
This will put pressure on Barnett, in his first home start, on a Saturday night, in front of a national-TV audience, to beat the Hokies with his arm and his quick reads.
On the other sideline, Virginia Tech has its own quarterback making his second career start for his team, Michael Brewer, a redshirt junior who graduated from Texas Tech in May, then transferred to Blacksburg with two years of eligibility remaining. Brewer looked solid in his debut last weekend against I-AA William and Mary, completing 23 of his 30 passes for 251 yards and two touchdowns. More important, the Tech running attack, stifled the past two seasons with problems getting consistency from the offensive line, had a banner afternoon in Lane Stadium, clearing the way for 222 yards rushing on 42 attempts and not allowing a sack to the Tribe.
Granted, that's against an FCS team, but it is something to build on for Virginia Tech heading into this weekend against an average-at-best Buckeyes defense that in 2013 gave up 377.4 yards and 22.6 points per game.
This game is not looking like the 11-point line that the oddsmakers are giving ohio state. Virginia Tech's defense neutralizes the ohio state offense, the Tech offense and OSU defense are basically even, and this game comes down to a special-teams play or a turnover or fourth-down play.
Tech can certainly win this game. That's the bottom line.
– Column by Chris Graham