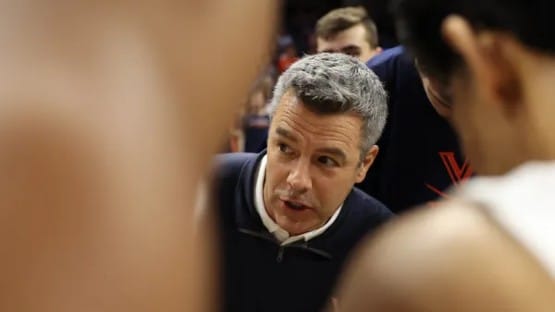 It's natural for college basketball teams to hit a lull right about now, mid-February.
Practice starts in October, the first game is in early November, the postseason is three weeks away.
Virginia is currently 21-4, atop the ACC, for the moment, with a 13-3 record. The Cavaliers are on most people's short list of teams who can make a run in March Madness.
It's human nature to get to this point, realize that you are who you are, and just want to get to the NCAA Tournament already.
This could explain the recent rough patch for UVA hoops, which at least is still winning games in its rough patch, but those tighter-than-expected wins last week over ACC bottom feeders Louisville and Notre Dame have the fan base concerned.
"I know we're close to that line, and all you got to do is watch us, so many of our games, we've won close, which is a credit to the young men, but you just got to you got to come ready and be as ready as you can," coach Tony Bennett said after the most recent squeaker, the 57-55 escape of Notre Dame on Saturday in JPJ.
Of late, the offense, which was ranked as high as fourth in adjusted efficiency nationally, per KenPom, earlier in the season, and at the moment sits at 51st nationally, has been bringing things down.
Virginia shot just 36.5 percent against Notre Dame, which is ranked at 287th in adjusted defensive efficiency, according to KenPom.
Free-throw shooting has also been a glaring issue – the 'Hoos were 9-of-22 in their win over Duke on Feb. 11, 9-of-16 in the win over Louisville last week, and a better 12-of-16 in the win over Notre Dame, though a miss on the front end of a one-and-one by Jayden Gardner with eight seconds left gave the Irish a chance to win at the end.
The fix, to Bennett, is just staying true to what got them to 21-4.
"You are who you are, and you know, hopefully, you just, you know, when we shoot the ball well, that certainly helps, and you just keep staying true to the system that you have, and the guys that we are playing, we have a good rotation," Bennett said.
Point guard Reece Beekman, who hasn't been the same over the past three, averaging 6.0 points and 4.7 assists, on 6-of-29 (!) shooting, feels like the Cavaliers are "close" to where they need to be, despite how they've looked over the past week, week and a half.
"We kind of preach the little things in practice, and it kind of shows up in the games in certain moments, so I feel like if we just kind of, you know, continue to work on those little things, I feel like that will take us a long way," Beekman said.
"It's just um, over time, you know, teams go through stretches where, you know, you're just not at your best, but I feel like we got time, with the last five games, I feel like we can continue to get better and just make a run," Beekman said.