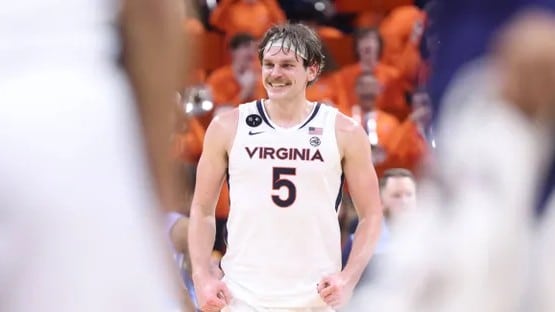 Ben Vander Plas, if he were a pro wrestler, would be said to be over with UVA basketball fans, who are showing up to games wearing fake 'staches and headbands, adopting the signature look of the 6'8" grad transfer.
And this being the age of NIL, Vander Plas has been quick to capitalize, teaming up with Cavalier Futures and Locker Room Access to get BVP-branded merch out there for the fan base.
You just gotta love capitalism.
The BVP Hoodie and BVP Tee weren't in the plans when Vander Plas made the decision to transfer to Virginia for his grad senior season.
He was just looking for a good landing spot after averaging 12.9 points and 6.2 rebounds per game over four years at Ohio, including, small world, putting up 17 points, five rebounds and four assists for the Bobcats in their 62-58 upset win over Virginia in the 2021 NCAA Tournament.
From the heel on that March day to the babyface in the here and now, he's come a long way with UVA fans.
"I'm just so thankful to be in this spot," Vander Plas said in an interview with "The Jerry Ratcliffe Show" on Thursday.
Listen
He sat down for the interview a few minutes after practice.
We didn't share the video from the Zoom, but yep, he was rocking the headband, the flowing hair, the 'stache, the look of, maybe, Bill Walton in Portland in the late '70s.
It's the same look that you see on fans all over JPJ on the video boards during timeouts.
Vander Plas met a group of his fans after the most recent home game, a 76-57 win over Boston College on Jan. 29.
"They had my shirts with the mustache and the hair and the headband, they had their own orange headbands with little fake mustaches, and, like, that's, that's, it's awesome, I love that stuff," Vander Plas said.
"I'm just really, really thankful that, you know, people have accepted me here and are supporting me. So, just a huge shout out to everybody who has kind of hopped on the mustache train. It's been a lot of fun, and I'm really, really thankful for those people."
Vander Plas has been a fan favorite since the opener in November, and not just for the throwback look.
The 6'8" stretch five has been a key reason the Cavaliers have spent a good part of the 2022-2023 season ranked in the Top 10.
His counting numbers might seem modest – 7.7 points per game, 4.6 rebounds per game – but he's been at his best on the big stage.
Vander Plas had 14 points on 4-of-5 shooting in the win over Baylor in November, 10 points on 4-of-5 shooting in the win at Michigan in the ACC/Big 10 Challenge, 20 points on 7-of-13 shooting in the narrow loss at Miami in December, then 17 points on 6-of-10 shooting in the comeback win over UNC last month.
The output in the UNC win vaulted Vander Plas into the starting lineup as Virginia has ripped off a seven-game winning streak that has the 'Hoos in the Top 5 of the national polls, and the pundits saying UVA is one of the teams on the short list that can cut down the nets in Houston in April.
Since the Carolina game, Vander Plas is averaging 9.8 points, 6.5 rebounds and 2.7 assists per game, shooting 46 percent from the floor and 40.7 percent from three, while banging with bigs at the five spot.
That last part, Vander Plas moving into the starting lineup as the five, has been the surprise.
"Coming into UVA, I lost some weight, because I was playing the five at Ohio, and because I was looking to play a little bit more four, and even talked about a little bit of, like, maybe some three. But you know, here we are, back at the five again. So yeah, just continuing to work with Coach (Mike) Curtis making sure we stay strong, just so I can bang around in there with the with the big guys in the ACC," Vander Plas said.
According to the sports data website Synergy, Vander Plas is more than holding his own on the defensive end. Synergy has him limiting opponents to an effective field goal percentage of 28.8 percent, and to 0.543 points per possession.
Both numbers are tops in the ACC, and the PPP number ranks fourth nationally, and the effective field goal number is seventh nationally.
Not bad, considering the adjustment he had to make going up a level from playing in the MAC to playing in the ACC.
"I've guarded fives in the past, you know, playing at Ohio, but MAC fives and ACC fives are just a little bit different in terms of just the size," said Vander Plas, who credits the team defense approach in Tony Bennett's Packline.
"We have a lot of individually talented guys defensively, like, Reece (Beekman) and Kihei (Clark) are unbelievable, Armaan (Franklin) and JG (Jayden Gardner) are both unbelievable," Vander Plas said. "We have a just a lot of talented defensive guys, too, but you throw all that together, just get in the gaps, and like you said, the double teams, just the way that we're able to communicate and just kind of mesh out there defensively, we can do a lot of different things, whether it be more of a one-on-one with a choking out of the post or a double team, and then, you know, guys just being able to guard the ball. So, kind of like you said, it's just that team effort that really, really keeps us going."
The move to get Vander Plas in at the five spot wouldn't be possible if he wasn't able to play D against ACC fives. The benefit to having BVP in is probably more pronounced on the offensive end, with his ability to knock down shots from the perimeter at the five spot providing spacing that allows Beekman, Clark and Franklin to get into the lane with dribble-drives and create open looks in the paint and on the three-point line for Virginia's array of shooters.
Since Vander Plas was moved into the starting lineup, UVA has averaged 1.195 points per possession on the offensive end, up from the 1.141 points per possession the Cavaliers had been averaging with 6'11" redshirt junior Kadin Shedrick as the starter at center.
"We can do a lot of different things on offense, and I think it's showing a little bit just with the different lineups we can go out there with, the different kinds of schemes we're throwing out there in terms of what we're running on offense, who's getting the ball where, just there's a whole bunch of things that we can do with a lot of really skilled guys offensively. It's been fun to see, you know, the coaching staff's creativity in terms of, you know, what they want to do against a certain team," Vander Plas said.
Now, back to the 'stache.
"It goes back to during quarantine, right when COVID happened," Vander Plas.
"Conference tournament gets cancelled, I hop in the car, started driving home, my brother calls me, he's like, hey, come pick me up, like, I'm coming home, too."
His brother, Sam, was a grad assistant with the Illinois State women's program at the time. Sam is now director of basketball operations at Green Bay, Tony Bennett's alma mater.
You already know the story about how Ben's full first name is Bennett, that he was named after Dick Bennett, Tony's father, who coached Tony and Dean, Ben and Sam's father, at Green Bay.
"We're thinking we're only going to be there for a couple of weeks, but we ended up being there for however many months it was," Vander Plas said. "So, we were just home, and my brother started growing his mustache, and I was like, you know what, I'm not leaving the house anytime soon, I've got nobody to impress, like, I'm just gonna grow my mustache and see what it looks like. So, I gotta give the credit to my brother for that one. I kind of followed in his footsteps."
This means Sam gets a cut of the merch, right?