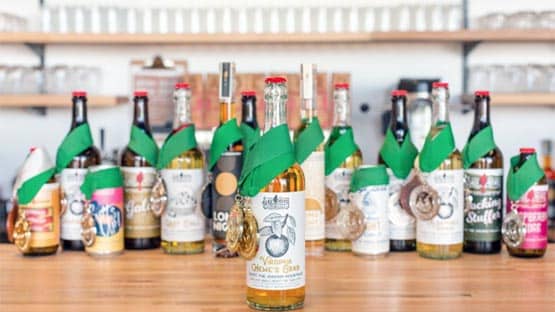 Sage Bird Ciderworks, Harrisonburg's first cidery, is racking up international honors in their third year of production.
Sage Bird Ciderworks' Virginia Hewes Crab Cider earned a Best in Class third place gold medal award from the Great Lakes International Cider and Perry Competition in the Heritage Cider category. The competition had 138 commercial entries from around the world.
The cidery aims to give customers a taste of the Shenandoah Valley in a glass. The award-winning Virginia Hewes Crab Apple Cider features notes of ripe apple, caramel, lemon, earth and leather.
"Working with the Virginia Hewe's crab apple is a priority for us in order to showcase a sense of place in our ciders and feature an incredible southern cider apple," says Zach Carlson, co-owner and cidermaker at Sage Bird Ciderworks, who along with his wife, Amberlee, graduated from James Madision University – and never left – making cider from their first apartment before breaking ground on their taproom five years later in 2019.
Their downtown Harrisonburg cidery opened at 325 N. Liberty St. in September 2020.
"We fell in love with Harrisonburg because of its community. It is big enough that there are things going on and small enough that you matter," said Amberlee.
Their growth, including doubling their staff, has come in part due to off-premise sales and increasing regional brand sales. The cider industry as a whole grew 3.9 percent in 2022, according to data from Nielson and the American Cider Association.
"We're just so grateful for the support from our Harrisonburg Community that has allowed us to quickly grow into a bigger space, expand our cider sales to 6,600 gallons in 2022, and grow our staff from five in 2020 to 10 in 2023," said Zach.
For more information, visit sagebirdciderworks.com.