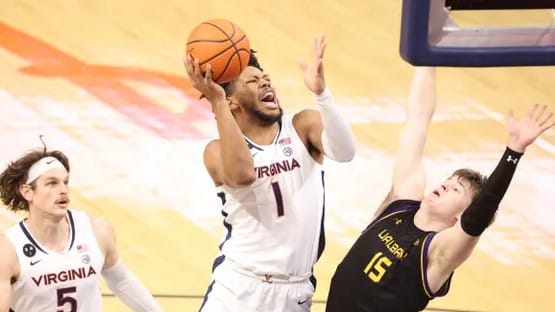 The question Why doesn't UVA try to get the ball into the post more? is one I get a lot as a reporter who covers Virginia basketball.
It came up again in the aftermath of Virginia's 65-58 win over North Carolina on Tuesday.
UNC lost All-ACC center Armando Bacot 1:19 into the game, after coming in with starting power forward Pete Nance in street clothes with a back injury .
So, why not punch the ball in the post to try to take advantage.
Good question.
Part of the answer, specific to the North Carolina game, is that Carolina doesn't hurt for depth in the post.
Hubert Davis was able to call on Jalen Williams, a 6'10" true freshman who, yes, had only played 19 minutes all season until Tuesday night, but that was because he was coming off an ACL injury that had cost him his senior season of high school ball, and he's been working to get his basketball legs back under him, and, oh, yeah, there's that Armando Bacot guy ahead of him in the rotation.
Williams, a four-star prep recruit, played like it Tuesday night, scoring 13 points in 27 minutes.
So, it's not like Davis had to go small with Bacot and Nance, a grad transfer from Northwestern, on the sidelines.
He still had Williams, 6'9" defensive ace Leaky Black, and 6'8" reserves Justin McKoy and Puff Johnson, who gave Davis a total of 29 minutes off the bench in the post.
The other part of the answer, more generally, as to why Tony Bennett doesn't punch the ball into the post more is, simply, that's not how he does things.
Post-ups account for 7.7 percent of Virginia's offensive usage, according to the sports data website Synergy, and that's pretty consistent for a UVA team in the Bennett era.
According to Synergy data, for instance, the 2019 national title team went to post-ups on 6.2 percent of possessions.
The high-water mark that I'm seeing in the data is the 2016 Elite Eight team, which had a 10.3 percent post-up usage rate.
Post-ups just aren't a feature of the Bennett offense, which relies on screening action to free up guards on the perimeter, with the looks into the post largely being pocket passes off those cuts.
When you look at the numbers for the starting five, Kadin Shedrick, 36.2 percent of his usage is off those cuts, and he is quite effective there, shooting 81.5 percent (22-of-27).
Shedrick only has five field goal attempts off post-ups this season.
For comparison, Ben Vander Plas, who is known more for his ability on the perimeter, has 14 attempts on post-ups.
Jayden Gardner, known more for his mid-range game, leads the team with 30 field goal attempts on post-ups.
Virginia shoots 50.9 percent and scores 0.926 points per possession on its post-ups.
The numbers on cuts by the post guys are much better – 63.7 percent shooting, 1.188 points per possession.
And this has been the case since the days of Malcolm Brogdon, London Perrantes and Anthony Gill.
That Elite Eight team actually shot 46.9 percent on its post-ups, but made up for that by shooting 64.7 percent on its post cuts.
It's just the way the offense works.
It's how Tony wants to do things. It's what he recruits to.
That's the answer.