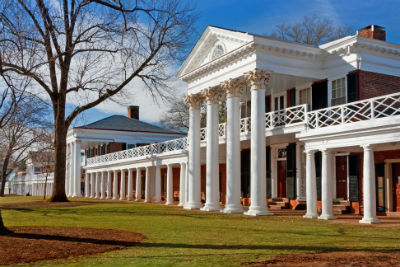 The University of Virginia launched its AccessUVA program aimed at increasing low-income enrollment way back in 2004, but UVA still ranks among the bottom five public colleges and universities nationally in the enrollment of students from low-income backgrounds.
Fourteen percent of UVA students qualify for Pell Grants, which are available to students whose families make $60,000 or less per year.
For comparison, UNC-Chapel Hill, a peer school to UVA, in terms of its student population's GPA and test-score profiles, is at 22.5 percent of its student population being Pell Grant-eligible.
As a UVA alum who was also a low-income background, Pell Grant-eligible student, I want to know what's up here, why we're not enrolling more kids like me from low-income backgrounds.
The AccessUVA effort is all well and good, but as I can speak from experience, it's not enough to wait for kids from low-income backgrounds to apply for admission, and I think that's a big part of the problem here.
Most kids from low-income backgrounds are lucky to get out of middle school before the economic pressures at home weigh on their futures.
So, what does UVA do to reach out to kids from low-income backgrounds to catch them before they succumb to those pressures, before they even are thinking about applying to college?
The answer, frustratingly, is not much.
Rise Together, a nonprofit tutoring and mentoring program, matches UVA mentors with low-income students from the Piedmont YMCA Child Development Center, Albemarle County Community Public Charter School, Walton Middle School and Charlottesville High School, all in the Charlottesville-Albemarle area.
The program, launched in 2017, is seeing some early successes, with all of its high school senior participants securing college admissions in 2019-2020, according to a UVA spokesperson.
That's great to see, but then, the impact is limited to the Charlottesville/Albemarle area. The University of Virginia is the University of Virginia, not the University of Charlottesville/Albemarle.
I'm told that the University and Rise Together are evaluating ways they can do more together in the future, but who knows how far-flung and when that could be.
A student-led program called Hoos First Look invites 20 first-generation/low-income prospective students to Grounds for a weekend in the fall with the goal of giving them the opportunity to experience UVA, and providing them resources for the college application process.
That seems promising, but again, the impact – it's 20 students a year – isn't all that significant.
Other efforts include partnerships with the Virginia College advising core to identify first-generation/low-income students in the state, and high schools with high percentages of students who are in free- or reduced-lunch programs, and with the Posse Foundation and Questbridge, which help UVA identify high-achieving low-income and first-generation prospective students in Virginia.
Two others: the Jefferson Scholars program has a new scholarship for first-generation students who are interested in UVA, and a direct matriculation program with the Virginia Community College System as well as UVA-Wise.
According to a spokesperson, this outreach has increased low-income student enrollment 17 percent in the past five years, but the sum result is that UVA is still bottom three nationally among public colleges and universities in low-income student enrollment, with a profile more like that of an Ivy, and not in a good way there.
Even the vaunted AccessUVA program isn't as much a help as it was when it came to life in 2004. In 2014, the University's Board of Visitors voted to implement need-based loans as part of its financial-aid packages to low-income students, capped at $7,000 per year.
The move saves UVA an estimated $6 million a year; the University of Virginia has a $14.5 billion endowment, billion with a b-.
Six million dollars is a rounding error at UVA.
What's being done now to increase enrollment among low-income students is lip service.
UVA can do, and must, do more.