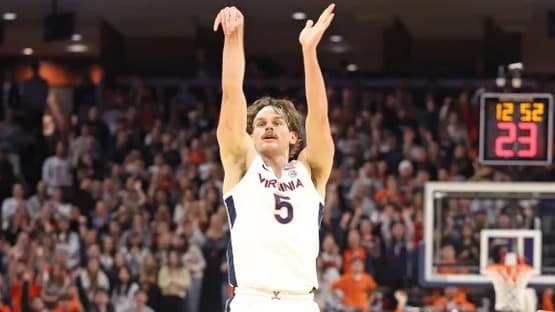 It was only 36-31 North Carolina, but as the Virginia team gathered in a huddle at the 15:12 media timeout, it was feeling a lot like the beatings that UNC put on the 'Hoos last season.
The Heels were getting great looks on offense, were shutting down everything UVA was trying to do on the other end.
There was a freshman, Jalen Washington, in for an injured Armando Bacot, putting up Bacot-like numbers – 5-of-7 from the field, 12 points in 11 minutes in the first half.
And when Virginia used its traps to get the ball out of the hands of guards on screens, Carolina was able to move the ball around to get open shots on the perimeter.
And then on the offensive end, Tony Bennett tried everything he could – running guards off screens in the middle of the floor, going back to his favored mover-blocker on both sides, basic high screen-and-rolls.
None of it was working.
Until he went small.
---
---
Now, saying he "went small" with a 6'8" guy at center sounds dramatic, like there are just tons of 6'8" guys walking around.
But the Washington kid is 6'10", Carolina's four, Leaky Black, is 6'9".
Putting Ben Vander Plas, a stretch four, at center, and surrounding him with four guards – Kihei Clark, Reece Beekman, Isaac McKneely and Armaan Franklin – the tallest of which is the 6'4" Franklin, was a roll of the dice.
It worked, when nothing else did.
"We got some good looks, and actually, we did defend and held our own on the glass. I really liked the second half. They just, they were fairly, we were gritty defensively, ran good offense," Bennett said, after his gamble to go small paid off, with Virginia outscoring Carolina 34-21 the rest of the way on the way to a 65-58 win.
First key: BVP
A couple of keys. First, it doesn't work – Bennett doesn't even try it – if Vander Plas can't defend the five.
Vander Plas showed he could do that in the second half of another come-from-behind win, the one at Michigan in November, when he checked 7'1" Hunter Dickinson for a long stretch during that second-half comeback.
With that in the memory bank, Bennett put Vander Plas on Washington, who had been eating Virginia alive in the post in the game's first 25 minutes.
After that big first half, Washington only scored one point in 16 second-half minutes, missing all four of his shots from the floor.
A reporter asked Bennett after the game if he did anything different defensively in terms of strategy to try to neutralize Washington.
"Well, ironically, no, we didn't," Bennett said. "We just, you know, Ben did a good job when he started matching up on him. I think Ben's physicality or his weight, his girth is, you know, what's the word, physique? Yeah, I don't want to offend anybody. I don't know. It's everything's so sensitive nowadays. But his mass, you know, helped, you know, he couldn't move as much, and Ben's got really good hands. I just thought, you know, he kind of walled up and got under him, and maybe he was fatigued, or guys tried to dig in a little more, so, a number of things.
"We had a hard time with him in the first half. I thought we'd guarded their ball screen better. They had us, Hubert did a good job, and they did a good job of twists and screens, and we were all over the place, and just made a few subtle adjustments, but the guys carried it out, and they did the job, but I think it helped us stay a little more connected," Bennett said.
Vander Plas credited the mentality of the Packline with the success of the effort on the defensive end.
"They were trying to get post feeds early in the half on the block in front of their bench. Just trying to force him to catch it away from the block, so then I can have guys like Reece and Kihei and iMac digging it out and getting him to get rid of it. So, just forcing the catch a little bit farther out, and then just relying on my strength that I have. Shout out to (strength and conditioning) Coach (Mike) Curtis," Vander Plas said.
Second key: Attacking the paint
The offense just felt clogged up. UNC coach Hubert Davis had a great game plan, and his players executed it well, with ball pressure, fighting through screens, and taking away pocket passes into the post, the hallmarks of the Virginia offense.
Bennett going with Vander Plas at five was meant to draw Washington away from the basket to create driving lanes for Reece Beekman and Kihei Clark.
"We tried to put pressure on the rim," Bennett said. "Games kind of ebb and flow, and certain things work offensively, or get you good luck, some things don't look so good. We were struggling really to shoot the ball and score in that first half and parts of the second, and then we said, Let's go small and take a look at a few things, and I think it just started opening things up."
The dribble-drives from Beekman and Clark, in particular, turned the game around, according to North Carolina coach Hubert Davis.
"I thought our inability to win our one-on-one matchups and be able to guard our guy and stop them from just straight-line drives to the basket, I think that hurt us the most," Davis said.
"Armando could have been in the game, it didn't matter. If you give anybody a straight-line drive to the bucket, you can have Armando in there, whomever," Davis said. "Good things don't happen when, from a defensive standpoint, you allow that to happen, and you allow that to happen consistently."
Virginia had made 11 of its 29 shots from the field before the move to go small at the 15:12 mark; from that point on, the Cavaliers were 12-of-23 from the floor, including five makes at the rim – four dunks and a layup.
Vander Plas was a key here, too. His ability to hit the open three – his first in this stretch, at the 12:52 mark, put Virginia on top, as it turns out, for good; his second, at the 9:25 mark, stretched the lead to 10 – pulled Washington away from the rim and gave Beekman and Clark space to operate.
"He is a big that he can cause some problems because he's a big that can shoot the ball from the outside," Davis said. "And so you put a traditional big on him, now he has the ability to space, and in transition, he's not going to the front of the rim, he's spotting up from three, so that's different. If you put a smaller guy on him, he has the ability, he's big enough and skilled enough, to be able to post up. He played really well in the second half."
BVP's presence on the perimeter also opened up Franklin to be able to operate in the post on Seth Trimble, a 6'3" guard.
Franklin scored on three post feeds in the final 15:12, and also drew two fouls on post-ups.
"The ability to get to the rim, post some guys up, you know, and then it helped that Ben banged the three, iMac hit a three, I don't know if we had a couple in that run, but it just it felt good. And then we got some, the momentum helped, the crowd was great, and that, all that stuff makes a difference," Bennett said.
Third key: Bennett stuck with it
You see this happen all the time, where a coach makes an adjustment going away from the game plan, the adjustment works, the game gets moving in the right direction, and then the coach reverts back to mean, going back to the game plan.
Bennett resisted doing this, and kept sending the same five guys back out there through the media and other timeouts.
Beekman addressed this with the media after the game.
"I definitely feel like we had like kind of just a rhythm going with the guys on the court at the time. We were kind of all in sync with the offense we were running, the way we were getting open shots," Beekman said.
Which isn't to say that it wasn't tough physically for the guys who kept getting sent back out there.
"It was definitely a grind towards the end, you know, everybody was tired, I felt like. So it's just, we worked out hard and a lot this offseason just for moments like this, to be able to withstand those long moments and being able to play this type of minutes, and so definitely, definitely paid off today," Beekman said.
Video