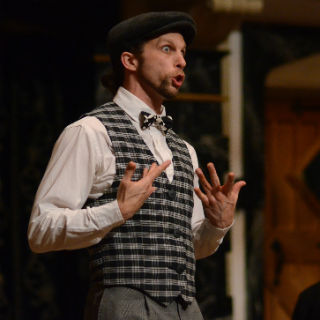 What happens when a group of shipwrecked sailors find refuge on an island of exotic women?
Like its predecessor, The Tempest, The Sea Voyage is a story of love, unexpected reunions, and buried treasure.
Both plays were written during the first explorations of the New World, when shipwrecks were common and tales of adventure grew taller with each telling.
Similar Themes, Different Stories
The Tempest is well-known for being Shakespeare's final solo play before his death.  It is regularly performed around the world and even remade as a special-effects-heavy feature film in 2010.  The Tempest is currently playing at the Blackfriars Playhouse in Staunton as part of the Actors' Renaissance Season.
The Sea Voyage will debut Friday, February 19, during this creatively demanding and exciting season.  "We can find no record of a previous, professional production of The Sea Voyage in North America," says ASC Co-Founder and Artistic Director, Jim Warren.  "We invite audiences to see both performances to explore where the similarities begin and end."
The Sea Voyage was written by early modern playwrights John Fletcher and Philip Massinger for Shakespeare's company, the King's Men, and seems to be heavily influenced by Shakespeare.  The Sea Voyage was last known to grace a stage in 1646, but an adaptation called The Commonwealth of Women, was mounted in London in 1710 during the Restoration.  Voyage and Tempest have attracted the attention of late-twentieth century scholars as part of the literature of colonialism and anti-colonialism.
"The playwrights wanted to tell engaging adventure stories," says Warren.  "Modern audiences will see that the work also comments on economic changes in their world.  A shipwreck represents cataclysmic loss, and any riches of discovery went to the very elite.  I believe modern audiences will enjoy both adventurous stories.  Playgoers will get to ruminate on the sentiment of changing fortunes relative to the risk."
He adds, "No explorers have discovered a society comprised only of women…yet."
Opening night will be Friday, February 19. The Pay-What-You-Will (PWYW) nights will be at 7:30 on February 18 and 19. Any donation is accepted. Normal ticket prices range from $18 to $65.
Patrons have the option to join the Pay-What-You-Will Club, a free membership on sign-up that includes perks throughout the year.