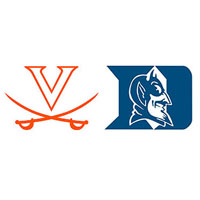 Grayson Allen atoned for two big misses at the free-throw line with a buzzer-beating runner to lift Duke to a 63-62 win over #7 Virginia on Saturday in Durham, N.C.
The Cavs (20-5, 9-4 ACC) had taken a one-point lead with 10 seconds left on a layup by Malcolm Brogdon. Duke (19-6, 8-4 ACC) called timeout with six seconds left to set up a final play, and it was Allen who got the ball at the top of the key against UVA guard Marial Shayok.
Shayok forced Allen to his left into an apparent traveling violation, as the sophomore's feet got crossed up as he prepared to elevate for a jump shot.
There was no call there, and no call when Allen leaped and returned to the ground before releasing his runner, which banked in as time expired.
Virginia led by as many as 11 in the first half before Duke freshman Brandon Ingram caught fire, going 9-of-10 from the field over an 11:08 stretch in which he scored 22 of his game-high 25 points.
A three by Matt Jones with 12:22 to go gave Duke its biggest lead of the day at 51-44, but from that point the Cavs' defense took over, holding the Blue Devils to 2-of-13 shooting the rest of the way as Virginia chipped away.
A Brogdon layup with 7:45 to go tied the game at 53. Allen was at that point in the midst of a stretch where he was getting touch-foul whistles on dribble drives inside the three-point line at will, hitting 7-of-8 at the line over a 4:42 stretch that saw Duke go just 1-of-7 from the field.
Two free throws by London Perrantes brought UVA to within one at 61-60 with 1:51 left, and the 'Hoos had two chances to take the lead on their next two possessions, which ended with misses on good looks by Brogdon.
Allen rebounded the second miss with 27 seconds left and was fouled, but missed both ends of the two-shot opportunity. Shayok found Brogdon in the lane for the go-ahead layup with 10 seconds left, setting up the final sequence.
Brogdon led Virginia with 18 points on 7-of-16 shooting from the field, but he was just 1-of-6 from three-point range, and UVA was 2-of-11 from three as a team for the game.
Anthony Gill had 12 points for UVA, which shot 48.1 percent from the field (26-of-54) for the game.
Duke was 45.1 percent (23-of-51) from the field for the game, and connected on 8-of-22 (36.4 percent) from three-point range.
Virginia Team Notes
Virginia is 50-118 all-time against Duke, including 10-57 in Durham
UVA's last win at Cameron Indoor Stadium was Jan. 14, 1995, a 91-88 double-overtime victory (17-game losing streak)
Tony Bennett is now 2-8 all-time against Duke
Virginia lost on a last-second shot for the first time this season and first since Mangok Mathiang hit a field goal with 2.7 seconds left last season at Louisville (3/17/15)
Virginia is 15-2 when leading at the half
Virginia had its seven-game winning streak snapped
UVA had held its last four opponents to 50 points or fewer; each shot less than 40 percent (Duke shot 45.1 percent)
UVA matched a season low with two three-pointers
Virginia went on an 11-0 run in the first half to turn a 12-10 deficit into a 21-12 lead – the entire run came while Malcolm Brogdon and Anthony Gill were on the bench
UVA missed its last six shots prior to Brogdon's last shot, while Duke was 2-for-13 to conclude the game
UVA is 4-4 when getting out-rebounded by its opponent
Virginia's bench out-scored Duke's reserves 14-0