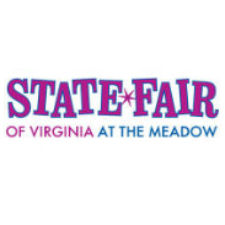 Corn, cotton, grain sorghum, peanuts, soybeans and tobacco will all be growing at the State Fair of Virginia Sept. 23-Oct. 2.
The fair's field crops plot is one of its many agricultural features, and one of its most visible. It's located across from the backyard garden exhibit and is attended every day by Caroline County Farm BureauPresident, fair volunteer and local farmer Lynwood Broaddus. He makes a point of being on hand to answer visitors' questions about how the crops are grown.
"There is not a better opportunity to show off Virginia agriculture, as well as educate our visitors about what I do," Broaddus explained.
Many visitors are amazed to see the field crops up close, he said. "The grain sorghum, or milo as many people know it, gets a lot of interest. This gives them a chance to see it up close and actually touch it, as well as ask questions about its uses."
Agriculture is an integral part of the State Fair. Formed in 1854, the fair started as a showcase for agriculture and a gathering place for the community. Today, its mission is to increase agricultural and natural resource awareness and interest through educational programs, exhibitions and competitions.
In addition to the field crops plot and a backyard garden plot, this year's fair includes Young MacDonald's Farm, which dates to the 1960s. For many city and suburban children, the fair exhibit is their first encounter with farm animals.
Inside the Young MacDonald's tent, children are able to witness baby chicks slowly emerging from their cracking eggs, pet an alpaca, witness a dairy calf being born or give hand-milking a try. They also can see baby pigs and watch goats cavort on their own rock "mountain."
The Sale of Champions—a benefit livestock auction of grand champion and reserve grand champion steers, hogs, lambs and goats from the youth livestock shows—is also part of the fair. Proceeds from the sale go to the State Fair scholarship program. Last year's Sale of Champions raised $61,000 to support the fair's long-standing commitment to youth who compete for scholarship money.
In the Harvest Landing area, fairgoers will find some modern-day crops in the horticulture tent, including the crowd-favorite giant pumpkins and giant watermelons. Last year's blue-ribbon pumpkin weighed 1,340.7 pounds and broke the State Fair record of 1,203.2-pounds, set in 2014. Both of those pumpkins were grown by Hank Houston of Spotsylvania County. Last year's winning giant watermelon weighed 161.12 pounds and was grown by Davis Wells of Hanover County.