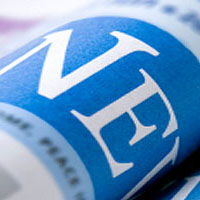 Frederick County residents know the Red Bud Run corridor as a green space to bike, hike and watch birds. But 150 years ago this fall it was the site of the fiercest Civil War battle in the Shenandoah Valley.
Most of the fighting at the Battle of Opequon took place on farmland that's been in the same family since Colonial times and is being restored to its agricultural roots with the advice of the U.S. Department of Agriculture's Natural Resources Conservation Service.
"We've found that the best way of managing our cultural resources and landscape open space resources is through active farming management," said Chase Milner, stewardship manager of the Shenandoah Valley Battlefields Foundation. "So we are implementing best management conservation practices to keep these historic farms productive, agricultural working farms well into the future."
The 209-acre property is still a working farm through a leasing agreement with the owner. Milner said farming can be a great partner in historic preservation because it generates income for the property and continues the historic use of the land.
The NRCS works with property owners on a voluntary basis to develop and accomplish conservation goals. In this case, the agency is offering advice to improve water quality and prevent erosion on the battlefields' farmland. One of the tools being implemented is fencing cattle out of the local stream.
"The results of practicing good conservation have a lot of different benefits. Not as much fertilizer and lime are needed now," since nutrient management programs have been implemented, said Mike Liskey, NRCS district conservationist. "Yes, a stream that flows through the property has now been fenced off, … but with that (recently installed) watering trough, you get better health benefits to the cattle."
Restoring the natural habitat is crucial for native birds and wildlife, but it's also being done to provide a more authentic experience for history buffs, Milner said. Battlefield visitors will experience the same landscape Confederate and Union soldiers did in 1864. And modern conservation and farming methods will assure the landscape and the watershed remain as clean as they were was back then—or cleaner.