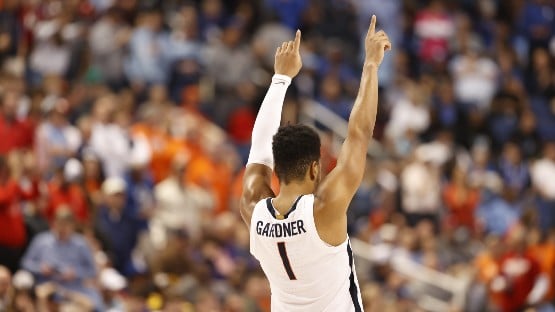 Tempo
Furman is the hare, Virginia, as always, the tortoise. Who wins the tempo battle will go a long way to telling us who wins the game on Thursday.
Virginia, as I noted in another pregame column on Wednesday, hasn't played a game where either team had 70 possessions all season long, and has played in just one such game in the past three seasons.
Furman played in 18 70+-possession games per team this year.
This game is going to be played at Virginia's pace.
Virginia was 8-2 this season in games against teams that played at a faster pace than Furman's 68.4 possessions per game.
The two losses: at Miami, by two, at North Carolina, by eight.
Furman was 3-3 in games that played to 65 or fewer possessions per team.
The most recent of those losses was to The Citadel, which was 10-22 this season, and was 325th in KenPom.com among the 363 D1 teams.
If the Paladins are going to pull the upset, they're going to need to outplay Virginia at Virginia's game.
Furman in transition
The Paladins average 82.1 points per game, which ranks eighth in the country.
Over their last 10 games, they're also averaging 82.1 points, which is nice and tidy.
According to SynergySports.com, Furman is averaging 15.0 points per game in transition over its last 10 games.
Also according to Synergy, Virginia is allowing opponents 4.2 points transition points over its last 10.
Just one opponent, Georgia Tech, in Virginia's 74-56 win in January, got into double digits in transition points.
Furman isn't going to get easy buckets.
OK, they'll get two.
How does Virginia match up with Furman in the post?
We're going to miss Ben Vander Plas, the 6'8" stretch five, who can play good D in the post, and stretch defenses with his ability to knock down threes.
Furman starts a 6'9" center, Garrett Hien, but the depth chart from KenPom.com over the past five games has him getting roughly 20 minutes per game at the five spot.
The rest of the minutes at the five are going to 6'7" stretch four Jalen Slawson, the SoCon player of the year, 6'7" forward Ben VanderWal, and 6'6" forward Tyrese Hughey.
Tony Bennett will go with 6'11" centers Francisco Caffaro and Kadin Shedrick at the five when Hien is in the game, but when it's Slawson, VanderWal or Hughey at center, it's either 6'7" Jayden Gardner or 6'8" Ryan Dunn.
The depth chart from KenPom tells us that Furman coach Bob Richey doesn't go four-guard around his small-ball centers – when Hien is off the floor, the minutes at the four spot are divvied up between Slawson, VanderWal, Hughey and Alex Williams, a 6'5" forward.
The best lineup for Virginia with Hien off the floor may be Gardner at four and Dunn at five.
Gardner should have a big game offensively, whoever among the Furman forwards are checking him.
Virginia needs Caffaro, Shedrick and Dunn to avoid dumb fouls that lead to foul trouble.
Backcourt
Furman, like Virginia, starts three guards, and the Furman guards can score – all three average in double figures.
They're just average defensively, though, on a squad that is, overall, below average defensively.
Virginia had success with its mover/blocker-sides offense during its four-game winning streak, which was snapped when Duke stifled the mover/blocker-sides sets in the 59-49 win in the ACC Tournament title game last Saturday night.
Look for Virginia to run a lot of mover/blocker-sides in this one with Furman, which should have a double-whammy effect – providing good looks for Virginia on offense, and taking the sting out of the Furman guards enough to impact them when they're on offense.
Intangibles
Furman has been a trendy pick to pull the upset here, and you could hear it in the pregame presser on Wednesday that they know it.
The Furman kids are approaching this one like they're the favorites.
The Virginia kids are used to the disrespect. It follows them everywhere.
Virginia players wear disrespect well.
And a Tony Bennett-coached team will never look past an opponent again after what happened in 2018.
So …