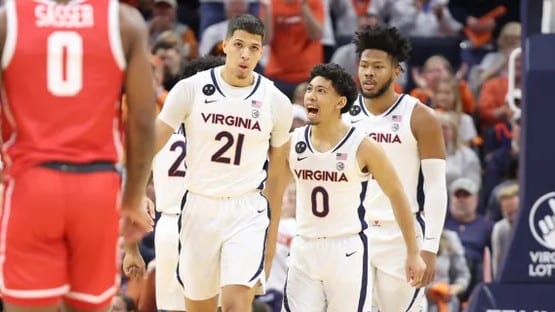 Thursday's Virginia-Furman matchup is a classic clash of styles, the tortoise vs. the hare.
Furman will want to get the ball up the court quickly; Virginia will want to slow the game down.
Spoiler alert: Virginia, which averaged 61.5 possessions per game, the fourth-fewest in D1, per the data analytics website KenPom.com, always wins these battles.
To illustrate that point: not a single Virginia game this season, not even the OT game with Duke back in February, played to 70 possessions per side.
The last Virginia game to play to 70 possessions per side: the Jan. 25, 2021, win over Syracuse, the only game in the past three seasons to play to that tempo.
Furman, which averaged 68.4 possessions per game this season, played 18 games that went 70 possessions per team or better this season.
Virginia played seven games against Power 5 and mid-major teams with a faster pace than Furman.
James Madison, which averaged 70.5 possessions per game, had 62 in a 55-50 loss to Virginia on Dec. 6.
Wake Forest, which averaged 69.6 possessions per game, had 65 in a 76-67 loss to Virginia on Jan. 21.
Illinois, which averaged 69.3 possessions per game, had 66 in a 70-61 loss to Virginia in Las Vegas in November.
NC State, which averaged 69.1 possessions per game, had 58 in a 63-50 loss to Virginia on Feb. 7.
North Carolina, which averaged 68.9 possessions per game, had 63 in the 65-58 loss to Virginia on Jan. 10, 67 in its 71-63 win on Feb. 25, and 62 in the 68-59 loss in the ACC Tournament last week.
Miami, which averaged 68.8 possessions per game, had 67 in a 66-64 win over Virginia on Dec. 22.
Florida State, which averaged 68.7 possessions per game, had 64 in the 62-57 loss at Virginia on Dec. 3, and 60 in the 67-58 loss on Jan. 14.
Virginia's record in those games against up-tempo teams: 8-2.
Three of Furman's seven losses came in games in which the Paladins had 65 or fewer possessions.
Penn State (64 possessions) defeated Furman, 73-68, on Nov. 17.
Western Carolina (65 possessions) defeated Furman, 79-67, on Dec. 31.
The Citadel (63 possessions) defeated Furman, 69-65, on Feb. 15.
Furman's record this season in games with 65 or fewer possessions: 3-3.
Chess match
Furman coach Bob Richey has had success at Furman, leading the program to five 20+-win seasons in his six years at the school, but this is his first NCAA Tournament, and the school's first since way back in 1980.
Richey called the battle for tempo a "chess match."
"We have guys that we've recruited to play at a certain tempo," Richey told reporters gathered at the Amway Center in Orlando on Wednesday, where the Cavaliers (25-7) will meet the Paladins (27-7) at 12:40 p.m. ET Thursday.
"You look at a player like Jalen Slawson, who is quote-unquote a post player, but has guard skills. He's a guy that can really, really run as fast as really any guard. And both of our bigs, Garrett (Hien) and Jalen, can really run the floor, and JP Pegues is one of the fastest players in our league. Then you've got Mike and Marcus (Foster) running the floor.
"Look, that's what we've done since the summer, and we're going to try our best to do it again, but we know they're incredible in transition defense," Richey said. "They don't send a lot to the offensive backboard, and they're going to put a big emphasis on getting back. That's the fun of the game, it's the chess match of the game, and they're going to be trying to slow it down, and we're going to be trying to speed it up, and it's what makes the game fun."
Furman comes in averaging 82.1 points per game, ranking eighth nationally, and leads the nation in two-point shooting percentage (60.1%) and ranks in the top 10 nationally in made threes (324) and three-point attempts (924).
"I would think the best thing for us to be able to do that is when we get stops to just not walk the ball up the floor. Even when they score, get it out quick," said Furman guard Mike Bothwell, who leads his team in scoring (18.0 ppg) on 51.9 percent shooting from the floor and 33.8 percent shooting from three-point range.
Bothwell is also adept at getting to the foul line, averaging 5.5 attempts per game, shooting 82.9 percent at the charity stripe.
"I think we have to be able to control what we can control, and that is getting it out quick, out of the net, and just running our break when we get a stop," Bothwell said. "It's just going to be a battle of two contrasting things, but I think we just have to be able to control it when we can."
Keys for Virginia
Bennett is ready on his side for the chess match with Richey and Furman.
"They have to do what they do well, and we've got to try to do what we do well," Bennett said. "And it's always, can you get your defense set against teams that really like to push, so they're playing against a set D, and then you've got to go to work. Sometimes if you get back and get them stopped, you're in great shape. You've got to do that against them, but then when their ability to stretch you and cut and move, you've got to be continuous and really good."
Fifth-year Virginia point guard Kihei Clark points to good offense as playing a role in keeping the pace where the Cavaliers want it.
"I think on the offensive end, just grinding them with size and hitting them with screens, getting the shots that we want, and then on the flight of the ball, if a shot is taken, just make sure we get back, try to get at least two to three guys back so they can't run out, and set our defense," Clark said.
"I think once we set our defense, I think we're pretty tough to score against," Clark said. "I think we try to just get the game to a Virginia type of basketball game, and I think our pace is one of the slower in the country, so I think that's just how it happens. Teams take the whole shot clock to try to score against us, so I think we've had some success this year."