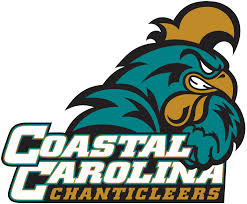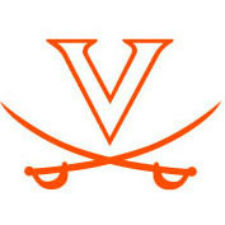 A #1 seed has never lost to a #16 seed. That fact was weighing upon East Regional top seed UVa. as it dealt with an unexpected big first-half deficit to #16 seed Coastal Carolina.
If body language, like a picture, is worth a thousand words, then the hangdog expressions on the Cavs, just five days ago on top of the world, having brought home the program's first ACC Tournament title in 38 years, when they looked up at the scoreboard and saw Coastal Carolina 31, Virginia 21, in large block letters and numbers, were worth at least a few thousand.
Even a late Virginia run that got the Cavs within five, 35-30, at the half, did little to change the attitude. UVa., known for basically making teams tap out to its pressure on defense and meticulous half-court offense, on both ends among the most efficient in the nation, was close to tapping out itself.
"There was some bickering going on," coach Tony Bennett said after his Cavs (29-6) rallied in the second half to post a tougher-than-expected 70-59 win Friday night in the second round of the 2014 NCAA Tournament at the PNC Arena in Raleigh, N.C.
"You could feel the guys, Come on, what's wrong?  We shouldn't be in this spot.  I just told them, I said, you guys have been so unified, what Anthony referred to, all year.  That's a strength of yours.  You're an unselfish team.  When you've played your best ball, you're unified.  Now you're going to start fracturing?"
It wasn't X's and O's in the locker room, then, as much as it was psychology on the part of Bennett and his coaching staff that turned things around for Virginia, even as press row was already working up its stories on what would have been the second biggest upset in college basketball history, to the 1982 loss by a top-ranked Virginia team to NAIA Chaminade.
Virginia came out of the locker room on a 9-3 run in the first 3:21, prompting a Cliff Ellis timeout to try to regroup his troops.
"They started taking it to the basket.  We were losing that cushion.  They were driving.  Then we started doing that, and then the three‑ball came.  They came out driving it more.  That was what I was doing.  We got to have that cushion.  Got to have that cushion," Ellis said.
The early lane penetration did indeed open things up for Virginia, which shot 6-of-10 from three-point range in the second half, but it was still tied at 47 with 8:34 to go when a three-ball that didn't fall turned momentum once and for all into Virginia's favor. London Perrantes, who was a hot 3-for-4 from three-point range on the night, was fouled by Josh Cameron on a long-range shot that clanked off the front of the rim. Perrantes hit all three free throws, and after an Elijah Wilson miss, Even Nolte happened.
"I always have the mentality of staying ready," said Nolte, who didn't get off the bench in Virginia's 72-63 ACC Tournament championship game win over Duke on Sunday, but scored eight second-half points, all in a 1:52 span, that ended with UVa. in the lead by a 58-50 margin with 5:44 to go.
"If the game doesn't go well, I'm always ready to come in off the bench. Being a shooter, you try to come in with confidence and don't try to hesitate," said Nolte, whose flurry, along with the three free throws by Perrantes, ignited a 23-7 UVa. run that put the game away.
While the big shots by Nolte will be remembered by fans, it was the tight second-half defense that keyed the win. Coastal Carolina (21-13) shot 52 percent from the field (13-of-25) and 50 percent from three-point range (5-of-10) in the first half, but was only able to shoot 32 percent (8-of-25) from the field in the second half, though the Chanticleers stayed hot from three in the second 20 minutes (4-of-9).
"They showed why they're good," Ellis said. "They didn't panic when we took the lead.  They stayed the course.  They played tremendous defense, especially the second half.  They really took us out of what we wanted to do."
"Our system is our system defensively, and it was just an idea of trying to be tenacious, having a mindset of being so tough and sound and make them make plays over the top, contested shots," Bennett said. "Some of the shots they hit were tough early.  Then we had a few uncharacteristic breakdowns and just said are you going to have an iron will?  Are you going to outlast them or will they outlast you?  That will determine who will win the game."
So Bennett didn't have to hit the panic button in the end. Or did he? The psychology at halftime was a big part of it, but so were a couple of key personnel moves – starting Anthony Gill in the second half, and giving Evan Nolte minutes in that key stretch in the later stages of the second half.
"I think desperate times call for desperate measures," Bennett said. "I think that's been a strength of ours all year. Different guys have stepped up. This time, it was Evan, but we do have some versatility that way. And we needed to score some points and the guys were holding their own defensively.  And guys needed a little rest. We had foul trouble with Akil. I played Anthony and London a lot of minutes in that second half but with the longer breaks, it was time for that."
Did the 1-versus-16 thing creep into the Cavs' minds when they fell into that first-half hole, and the game remained close until the final minutes? Without question.
"First, seeing Duke going down kind of reiterates the fact that this tournament, anyone can win," said Nolte, referring to the 79-71 upset win by Midwest #14 seed Mercer of #3 seed Duke, which happened earlier in the day in the PNC Arena.
"The margin of error is so slim," Nolte said. "Someone asked me, they said when you're on the bench the first five minutes, did you ever think we could lose this game?  And I responded, I said if you're sitting on the bench and you're thinking your team could lose the game, like you shouldn't be on the team, because the goal is to win the game.  So you're there saying yeah, we're going to win the game."
"Interesting hearing Evan," Bennett said. "I said they're capable of beating you.  I said, stop being afraid.  If you lose, you lose.  I said, Play.  I said, play as hard as you can defensively.  You've got to lay everything you've got defensively and let it come offensively.  I said take the shots that are there, stop trying to do it by yourself offensively.  But you're going to win it with your defense.  I repeated that a few times and kept talking about those things.
"You asked me the question here, can a 16 beat a 1?  Yeah, of course they can," Bennett said. "It will probably happen. We were going to maybe be the poster child for that if we didn't pick it up. But it's college basketball. Our game's a 40‑minute game, and you just watch. You mentioned some of the games, you mentioned some of the 1 seeds. There isn't a big separation. I know that sounds like coach speak, but it's not. There are too many good players you have to play.
"I don't know if our guys felt it or not.  We didn't feel quite like we were capable.  In the second half, they did play," Bennett said.
Game Notes
– Anthony Gill led Virginia with 17 points on 7-of-10 shooting from the field. Malcolm Brogdon had 14 points, London Perrantes 12 and Joe Harris 11 for UVa., which shot 52.5 percent for the game (21-of-40), 8-of-17 from three-point range (47.1 percent) and 20-of-25 from the free-throw line (80 percent).
– Badou Diagne had 14 points for Coastal Carolina, which finished at 42 percent shooting from the field (21-of-50) after starting 12-for-21.
– One telling stat that Virginia will need to fix, and fast: the Cavs had exactly zero offensive rebounds. For the entire game. Zero.
How in the world does zero offensive rebounds even happen?
"I'm not really sure right now," Gill said. "I guess we'll have to go back on the film and see if we went hard enough to the glass.  I thought we did at times, but they were doing a good job boxing out. Credit to them.  They're a great team and they have great bigs that can play."