McAuliffe releases plan to improve government efficiency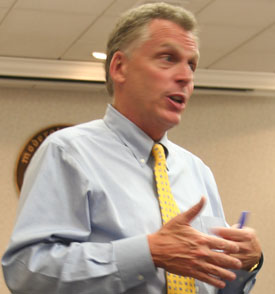 It's the impossible dream – making government more efficient. Against a backdrop of the high-profile failed rollout of the $394 million-and-counting HealthCare.gov website, Terry McAuliffe released his plan to make state government more efficient.
The plan, "Keeping Virginia the Best Managed State in the Nation," is an effort to "make sure that Virginia's government works for our citizens in the most efficient, cost-effective manner possible," McAuliffe said.
"As governor, I will work to reduce wasteful spending, keep our energy costs in check, give local governments the tools and resources they need to thrive, use a business-based approach to streamline government, and focus on new, technology-based solutions to help ensure Virginia remains the best managed state in the nation."
McAuliffe's full plan, "Keeping Virginia the Best Managed State in the Nation," can be found here. 
Keeping Virginia the Best Managed State in the Nation
1.      Save millions of taxpayer dollars through operational efficiencies. There remain significant targeted opportunities to save money by proactively rooting out inefficiencies and correcting them. Terry will bring his business and management experience to bear, bringing best practices from the private sector to be an aggressive steward of taxpayer funds.
a.     Reduce government expenditure on energy. Previous governors have made tremendous progress in reducing the Commonwealth's expenditure on energy costs. Yet in fiscal year 2013 the Commonwealth spent $188 million on energy just to heat, cool and light our buildings.  Terry will use the latest technologies and strategies, such as performance consulting, to continue to reduce energy consumption.  This makes good environmental sense and good sense for the taxpayer.  Even a modest 10% saving would save the citizen taxpayers millions each year. Specific strategies would include:
i.     Increase on-site generation where appropriate. Environmentally friendly on-site Combination Heat and Power (CHP) energy generation at government facilities, supplemented with solar panels, will continue to play a significant role in Virginia's strategy to reduce energy costs. These services should be contracted on a "pay if you save" basis or funded through bonds repaid directly from savings where possible to avoid any costs to taxpayers.
ii.     Contract with performance experts.  Implement more aggressive use of Performance Consulting (PC) whereby state agencies partner with Energy Savings Companies (ESCOs) to develop individualized saving plans for every public building in the Commonwealth.
iii.     Implement a statewide energy dashboard to track progress. Virginia should build on the model used by Missouri, which implemented statewide technology infrastructure to track energy use at all government buildings in real time. Like on-site generation, this service should be contracted on a "pay if you save" basis.
iv.     Continue to work aggressively with local governments to reduce energy use. Recruiting localities to participate in a statewide energy performance contracting would improve Virginia's negotiating position and save taxpayer funds at multiple levels of government, including local school systems, local governments, regional services (such as regional jails), and state government.
b.     Reduce state employee travel expenditures. Following the recommendation of Governor McDonnell's Commission on Government Reform and Restructuring, Terry will implement a statewide online portal for managing travel requests and reimbursements. Agencies should be required to use this service unless they can present compelling justification for opting out. Higher education institutions, localities, and other political subdivisions will be given the option to participate. This will:
i.     Reduce staff time spent on administrative tasks
ii.     More effectively find the cheapest travel option
iii.     Improve compliance and management reporting
iv.     Enable volume travel discounts
c.      Create additional targeted saving strategies similar to those outlined above around other operational expenditures such as:  water usage ($35 million per year), postage ($34 million per year), trash removal ($10 million per year), subscriptions ($6.2 million per year) and overnight package delivery ($6 million per year), etc.
d.     Implement technology-driven asset management strategies. Private sector companies around the world are making use of advanced technology-driven practices to keep track of supply chains, inventory, and fixed assets. The Commonwealth should make use of these strategies to more effectively make repair and procurement decisions in real time.
2.      Improve governmental responsiveness to citizens and businesses. Government employees and agencies must remain squarely focused on the "customer" for government services: Virginia's citizens and businesses. Accordingly, Terry supports commonsense reforms that make the Commonwealth more responsive to these end users.
a.     Putting additional permits and transactions online. Terry will push hard for a stronger emphasis on speeding up permit applications and other transactions by putting their processes online.  If major business transactions can take place online there's no reason more simple governmental functions can't also be easily taken care of online.  This initiative will require that the traditional way of thinking about service to our citizens must change.
b.     Move state government interactions to mobile platforms. Virginians spend millions of hours each year interacting with state agencies, whether it is applying for a driver's license, checking on the status of a tax refund, registering for social services, or applying for a building permit or professional license.  Smartphone technology now offers citizens the ability to conduct all of this business on their mobile phones safely and securely, wherever and whenever they want.  Using this technology, the McAuliffe Administration will substantially reduce the time and cost to apply for and receive government services, or check the status of a pending application or license without interrupting Virginians' busy schedules.
c.      Expand customer service training for government employees. Beginning at the top, Terry will require all agencies to develop comprehensive procedures and training for all government employees who interface with the public.  All Virginia public employees should be trained to promptly, professionally, and courteously address citizen concerns.  Any deviations from courteous and friendly customer service should be easily reportable and dealt with quickly by supervisors.
d.     Simplify call center operations. Virginians should not get the run-around when they call their government. Terry will require agencies to empower front line workers to resolve issues and reduce the number of transfers and transactions it takes to complete a call.
e.     Create a Statewide "311" service and improve call center performance. Cities and counties across the Commonwealth and across the nation are successfully providing basic customer services and addressing citizen concerns via these hotlines.  Virginians should be able to better interact with their state government and share concerns via call, text, and mobile.  The Commonwealth needs to look at better integrating call center operations by developing one or more "cross agency" call centers:
i.     Place the integrated call center(s) in a strategic locality.  By carefully planning and locating the call center in a locality with high unemployment we can insure a stable workforce and by having more than one center we can ensure continuity of operations in disaster scenarios.
ii.
3.      Streamline government and improve management at the highest levels. Terry will use his background in business to improve management and decision-making at the highest levels of Virginia government.
a.     Revive the Governor's Management Study. Terry will revive Governor Holton's Management Study, which loaned executives from Virginia's leading companies to assist in improving Virginia government management. Terry will update this study with a similar loaned executive approach as well as experts from Virginia's colleges and universities.
b.     Streamline and focus the cabinet. Virginia's cabinet has become overly complex since its inception. While many of the additions and alterations have been well meaning attempts at improving the government, some create duplicative roles or mis-allocate areas of responsibility.
i.     Centralize responsibility for Homeland Security with the Secretary of Public Safety. While the Secretary of Public Safety has operational responsibility for Virginia's first responders, the Secretary of Veterans Affairs manages certain citizen boards relating to homeland security. This creates unclear lines of authority in an area where we can least afford them. Terry will make it clear that the Secretary of Public Safety is the designated cabinet official to respond to homeland security threats and natural disasters.
ii.     Refocus the Secretary of Veterans Affairs. The Secretary of Veterans Affairs and Homeland Security will be renamed the Secretary of Veterans and Military Affairs, in recognition of the vital role that the military plays in Virginia's economy. Terry will empower this cabinet official to care for Virginia's veterans, ensure smooth working relationships between military installations and state and local government, and shape Virginia's response to a potential new round of BRAC – an important economic threat to the Commonwealth.
iii.     Operate the cabinet and state agencies along a corporate model. Virginia should move toward a system in which cabinet officials are the chief executives of the agencies they oversee, not merely policy coordinators as has been the model.  This will correspond with an effort to recast the cabinet on a more functional, corporate model – with the Chief of Staff playing a COO role and the Secretary of Finance playing a CFO role.
4.      Reduce unfunded mandates on local government. Terry will reform the relationship between the states and local government.  Virginians can't afford to have their property taxes increased as a result of irresponsible budget choices made in Richmond. As governor, Terry will work to ensure that legislators live within their means and stop passing down unfunded mandates on local governments that force them to raise taxes.
a.     Support local government budgets.  Create a high-level "Local Government Advisory" committee to meet regularly with the Office of the Governor to coordinate state and local government relationships and exchange policy ideas.
b.     Create a petition process for fiscal review of legislation with local impact. Terry will work with the Commission on Local Government to create a process by which local governments can request directly from the Commission a fiscal analysis of proposed legislation that they believe would impose unfunded or underfunded mandates on localities and school divisions.
c.      Establish Intergovernmental Councils within key agencies. Localities and key state agencies must engage in robust regional cooperation and be part of an on-going conversation about local mandates. A strong locality-agency relationship would clearly identify local mandates and find ways to simplify or streamline their implementation. Terry will establish Intergovernmental Councils at the agencies with most impact on local government to serve as the framework for these discussions.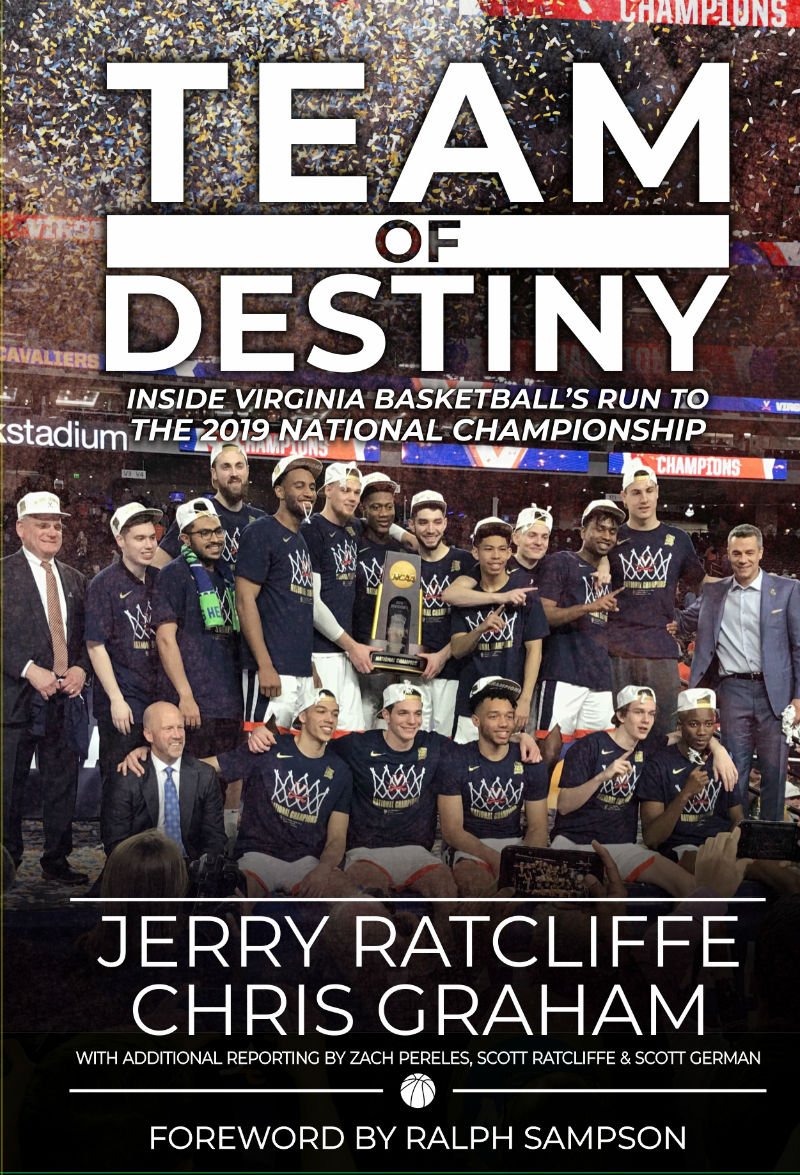 Team of Destiny: Inside Virginia Basketball's Run to the 2019 National Championship, by Jerry Ratcliffe and Chris Graham, is now available at a special pre-sale discounted price of $20. The book is expected to ship by June 10, 2019, and will retail for $25.
Pre-order for $20: click here.
The book, with additional reporting by Zach Pereles, Scott Ratcliffe and Scott German, will take you from the aftermath of the stunning first-round loss to UMBC in 2018, and how coach Tony Bennett and his team used that loss as the source of strength, through to the ACC regular-season championship, the run to the Final Four, and the thrilling overtime win over Texas Tech to win the 2019 national title, the first in school history.

Related Content
Shop Google