Graduating class of Virginia Bankers School of Bank Management announced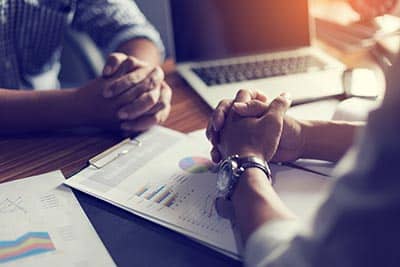 Forty-four Virginia bankers graduated from the Virginia Bankers School of Bank Management in Charlottesville on July 29.  The three-year school is sponsored by the Virginia Bankers Association, or VBA.
"We are proud of the 44 bankers who graduated this year. These students have developed a range of skills that will enhance their current performance and qualify them as potential candidates for advancement within their institutions," said Bruce Whitehurst, VBA President & CEO. "The connections they have made with other students – even after a fully virtual program in 2020 – will benefit them both personally and professionally for years to come."
Class president Beth Shivak of Atlantic Union Bank stressed that each of the graduates must never stop learning.
"Through our experience at the Virginia Bankers School of Bank Management, we also now understand that we can truly never stop learning; and one of the things that I have learned from this inspiring group of people is that challenges are simply opportunities for growth and for that I am forever grateful," she said.
Graduates complete three one-week summer sessions, eight home-study problems and participate in a BankExec simulation, which allows them the opportunity to make decisions acting as senior officers of a bank. Graduates broaden their knowledge in all respects of banking, economics, and related subjects.
Virginia Bankers School of Bank Management 2022 graduates include:
Cameron Agricola, Towne Bank
Christina Alvino, Burke & Herbert Bank
Betsy Bennett, Bank of Clarke County
Travis Cockerham, Skyline National Bank
Dan Convery, Jr., Burke & Herbert Bank
Lynda Crossman, United Bank
Erica Deluhery, F&M Bank
Mark Dofflemyer, Pioneer Bank
Charles Driest, F&M Bank
A.J. Eschle, Clifton Larson Allen LLP
Cody Florence, Virginia National Bank
Loren Gaylor, Atlantic Union Bank
Amie Harden, First Bank & Trust Company
Melissa Hicks, Chesapeake Bank
Shanton Kittler, MainStreet Bank
Sarah Lambert, State Corporation Commission
Azita Langroodi, United Bank
Andrew Long, State Corporation Commission
Bryan Patrick Lowry, Jr, C&F Bank
Stephanie McCoy, Bank of Botetourt
Kendall McGee, Village Bank
Natasha Merz, Old Point National Bank
Seth Moore, Atlantic Union Bank
Christopher Newsome, First Bank & Trust Company
Andrea Pender, TruPoint Bank
Rasheeda Perry, Atlantic Union Bank
Austin Phipps, First Bank & Trust Company
Dustin Physioc, State Corporation Commission
Kelly Poe, Skyline National Bank
James William Benton Porter, Carter Bank & Trust
Dennis Prescott, Sandy Spring Bank
Dawn Provost, Towne Bank
Liz Ray, Burke & Herbert Bank
Kristin Routt, American National Bank & Trust Company
Elizabeth Schaaf, Atlantic Union Bank
Allen Scherer III, Village Bank
Beth Lynn Shivak, Atlantic Union Bank
Julie Stevens, Towne Bank
Brandie Taylor, Carter Bank & Trust
Ben Thompson, F&M Bank
Jason Williams, Primis Bank
Lindsay Wirth, Southern Bank and Trust Company
Daniel Witcher, American National Bank & Trust Company
David Younce, Chesapeake Bank