McAuliffe announces new Virginia lumber sales to Mexico
Governor Terry McAuliffe today announced new export opportunities for Virginia lumber products following his recent trade and marketing mission to Mexico. Lumber sale agreements were reached between Northwest Hardwoods, Inc., which has a location in Buena Vista, Va., Triplay y Maderas de Mayoreo, based in Aguascalientes, Mexico, and Productos Forestales la Mision, based in Mexico City.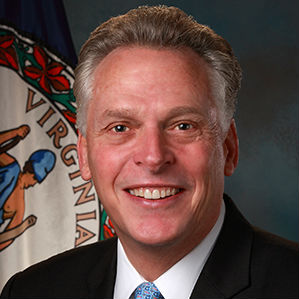 "International trading partnerships are critical to the growth and diversification of the new Virginia economy,"said Governor McAuliffe. "I made it clear while on my trade mission to Mexico that Virginia is interested in building bridges of trade, not walls of isolation. Virginia values fair trade and we are always looking for opportunities to strengthen and expand partnerships.  I am thrilled to see our efforts to globally promote Virginia's forest products have generated new business for our companies."
Northwest Hardwoods is headquartered in Tacoma, Washington, with sawmill locations across the United States. The company acquired two sawmill operations in Buena Vista in 2015, where it produces high-quality yellow poplar, red oak, and white oak lumber, among other species. Executives from Triplay y Maderas de Mayoreo and Productos Forestales la Mision were introduced to Northwest Hardwoods during a tour of the Commonwealth's hardwood operations, organized by the Virginia Department of Agriculture and Consumer Services (VDACS) Office of International Marketing.
"These sales can be attributed to a robust Virginia trade promotion plan, a good company and its staff in Virginia and across the U.S., and a top quality product," said Secretary of Agriculture and Forestry Basil Gooden. "Our VDACS' Latin American trade representatives kicked off their efforts to promote Virginia forest products in Mexico at a trade show there last summer, making contacts, introducing them to our products, and inviting them to the Commonwealth to meet our producers. The end results speak for themselves with more wood being shipped to Mexico to be used by more processors and manufacturers in that market."
"We really appreciate working with the Commonwealth of Virginia and value the initiatives to help grow sales from that region, where the forest resource is some of the best available in the world," said Robert Santoro, Latin American and Caribbean Accounts Manager for Northwest Hardwoods.
Agricultural and forestry exports from Virginia were valued at $2.78 billion in 2016. As of March, Mexico has been the largest importer of Virginia meat products. Virginia ranks 5th in the nation in pork exports to Mexico supplying about seven percent of the 2017 total U.S. pork exports to Mexico. Other top agriculture exports from Virginia to Mexico include wheat, poultry and tobacco. These new sales of yellow poplar to Mexico are expected to generate more demand for this species in the market and drive future sales for Virginia producers.
Comments