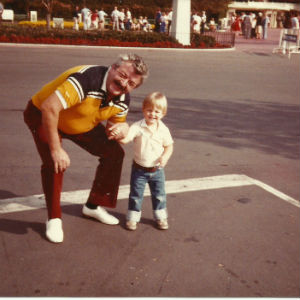 Column by Linda R. Jones
I have three children.  My father had a unique yet different connection with them all.  Although I'm coming along, I still hurt at the loss of my father.  When my children are sad by the loss of their Opa, my pain is doubled.  I put on my strong mother image and tell them it's alright.  Then, I keel over and sob for all three generations.
My first born son, Jeff, was my father's first born grandchild.    Jeff texted me recently and told me he was missing his Opa.  "Not sure why.  I miss Opa today.  It just hit me out of nowhere.  I'm seeing a lot of his things around my house.  How are you doing?"  I asked Jeff if he wanted to talk.
"Nah, I'm drunk and cleaning and cooking for some friends we're having over later.  Making spätzle (German noodles).  Dusting around Hummels."
I texted the laughing Emoji and told Jeff that's why he missed his Opa.  Hummels, spätzle, and drinking are definitely German.  I asked Jeff if he was using Opa's spätzle press.  He was.  "It's awesome!"  I told Jeff he was probably thinking how much fun it would be to have his Opa there.  I summed up our texts by reminding Jeff his Opa died peacefully.  Jeff said he was glad his Opa was happy until the end.  "Something to look forward to."
So, how am I doing?  Fine until my son's text.  I felt as though my soul was torn apart.  "Not my children!  I can barely take this!  You can't let my children be sad!"  It's been haunting me for a while now.  I think my children have small bursts of sadness, address it, and deal with it.  I'm trying to get to that point.
I went through some pictures of just Jeff and my father.  It was a montage of some of their times together and I got the song "through the years" stuck in my head.  In every picture my father is smiling at or with Jeff.  Those two had much in common: music, jokes, a good time, good food, good drink, and a love for life.  Every day an adventure.
I started smiling through tears.  One of my favorite pictures is of my father and Jeff at Disneyland in 1983.  Jeff went through the park holding only his Opa's hand.  We took a little break near an entrance for the Disney characters.  It wasn't crowded.  The character Briar Fox was about to go in when he spotted Jeff.  Jeff was a little shy (and oh so handsome) so this character started playing hide and seek with Jeff.
Within minutes, Jeff was putting on a show with Briar Fox.  My father was glowing and clapping his hands as those two danced together.  A massive crowd appeared quickly and all were filming this show.  Keep in mind it was 1983 and VHS cameras were bulky and heavy.  My father looked at me and said, "Everyone in Japan is going to see this."  Japanese tourists were the majority of the crowd.
When it got too crowded, Jeff ran to my father, arms outstretched, squealing, "Did you see me Opa?  Did you see me?" as my father scooped him up.  I'm not sure who had more fun, Jeff or my father.  Both of them were so happy.  At the time, I was just tickled by the two.  Now, I truly appreciate recalling that little adventure.  Death has a way of making me realize the importance of little things.
Jeff went back to Disneyland and Disneyworld a few times in his adult years.  He made a point of getting a picture taken with Briar Fox.  I think he has two photos side by side – one from 1983 and then the adult picture.  It must have stuck with him as well.
As time goes on, I try to focus on the good memories of my father without being sad.  It's a challenge especially when the memories include my children.  I accept that I'll never by the same because this is another phase of my life – my life without my father and my children without their Opa.  Life continues and prevails.
My healing journey continues.  Join me.  Tell me about your memories.  It's fine if we shed a few tears.
(Henry Alfred Rudolph.  Born April 2, 1930.  Died March 2, 2015.)