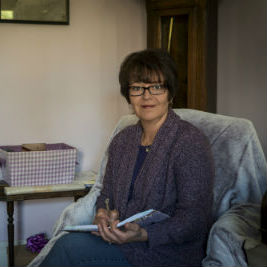 Column by Linda R. Jones
"The memory of my loved one is a part of my life forever."
~Martha Whitmore Hickman
I was reassured by so many people that the pain of losing my father would subside.  Anyone that had lost a parent agreed; I would be able to laugh again and I would never forget him.  They were right.  I have started laughing again and I remember him every day.
How could I forget a man whose life was such an entertaining story?  I've been exchanging stories about my father with my cousins since he died.  It's been only recently that I can truly laugh as we recall them, even if it's the same story over and over again.
"Linda, your father's pool parties weren't complete until he performed his 'Weisser Hirsch' (white deer)," my cousin Stephan said to me.  "Nothing like seeing my Onkel Henry's big butt coming up in the pool."
My father enjoyed summer weather; actually, he enjoyed tropical weather.  He liked being outdoors, swimming, barbequing, and, of course, entertaining.  My father made any get together a party.
So, in my childhood home, my father had an above-ground pool.  He also built a fantastic brick patio with a built-in grill.  It was ideal for summer gatherings and he had many.  The gatherings consisted of family and close friends; adults and children of all ages and mostly of German background.  I used to think we lived in this German subculture; my father's generation was comprised of immigrants and most of us children were first generation Americans.
It was the 1970's.  While the adults were preparing food, with my father as the head grill chef, we kids swam in the pool.  With my father's fully stocked bar, the day became night.  The kids caught fireflies and put them in jars with leaves and grass.  We all stared into our make shift lava lamps.  Then, we'd let them go.
The kids started to unwind, but the adults had enjoyed a few extra drinks.  My father was always last in the pool.  Jokes and laughter among the adults and then my father's grand finale; his "Weisser Hirsch."  My father would swim, start yelling jokes and making silly announcements in German, and the adults would cheer him on.  He would dive into the water as graceful as a dolphin and emerge without his swim trunks.
There was his big white bottom shining under the moonlight.  Do keep in mind that Europeans are not as conservative as Americans about nudity.
I asked my aunt, my father's younger sister, if she recalled his "Weisser Hirsch."  She started laughing.
"Let me tell you what he did to me at one of those parties," she said in her German accent.
She told me that my father approached her and seriously asked her if she had seen his swim trunks.  She turned to him and he was standing there naked with his swim trunks in his hand.  She started laughing and he continued the charade of concern for his missing swim trunks.  They exchanged jokes in their German dialect and my father acted surprised when he finally held out his swim trunks.  "Ach!  I was getting worried," my father said.
That was my father.  He enjoyed life and so did the people around him.  I enjoy reminiscing with my cousins.  My father was younger than we are now in those stories.  Those memories bring life into perspective.  Life is finite.  Enjoy it.  I know my father did.
My healing journey continues.  Join me.  We can go for a swim.  I'm keeping my suit on unless it's moonlight.
(Henry Alfred Rudolph.  Born April 2, 1930.  Died March 2, 2015.)