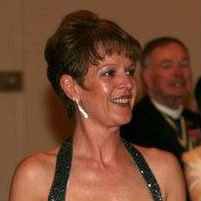 Column by Linda R. Jones
I was dreading December; Christmas time with all the festivities of decorating, baking, gifts, music, and traditions.  This will be my first December without my father.  I don't know if I can find my Christmas spirit or if I can decorate with joy in my heart.  I love Christmas.  I have combined my families' German traditions into ours.  If I am the queen of Christmas then my father was definitely the king.  He decorated, sang songs, had the best foods and drink, and had so many stories and shenanigans.
December 1st arrived.  I had a few dish towels in a pile in my kitchen that needed to be washed.  I opened the towel drawer and there were my Dambedei towels smiling at me.  Dambedei is dialect for "gingerbread men" from my father's hometown in Karlsruhe, Germany.  Gingerbread men have always been Dambedei for me and my father introduced that word into my immediate family's vocabulary.
Of course my father liked Dambedei.  Usually he preferred the animated ones that look like they're up to no good; a metaphor for him.  I stared at my Dambedei towels, smiled, giggled a little, and put them up.  It was a good start.  My husband kept the momentum going.  He walked around in a Santa hat, singing songs, and decorating.  I continued with Advent calendars which are a huge tradition in my family.
Another tradition – December 5th was on its way.  I had to sit down and laugh.  I just kept laughing because of a story from my father's youth.  December 5th is Nikolaus Abend (St. Nicholas Eve) and in my German family Nikolaus visited in the evening.  Traditions vary slightly but my family had someone dress as Nikolaus and visit.  He would read from a large book to see if the children had been naughty or nice throughout the year.  The children would sing songs for him and he would give them candies or chocolate.
You can imagine how scarce candies and chocolate were in post war Germany.  It was difficult to procure anything outside of necessities.  Christmas goodies were not a priority.  Somehow, my grandmother managed to find a large bag of individually wrapped candy weeks before Nikolaus Abend.  The majority of those candies were intended for my father's younger siblings, since he was 17 or 18 years-old during this time.  My grandmother had them under lock and key in an armoire.  We're not sure how my father figured it out, but he found the stash.  He would pull the armoire forward, unscrew the back, take a few candies, screw the back together again, and push the armoire back into place; quite a feat for a few candies.  His younger siblings saw him with candy one time and he gave them a few as well, as long as they didn't say anything.  They didn't and this went on for a few weeks up until December 5th.  Every time my father recalled the story he laughed as he told us because he didn't realize how quickly that large bag dwindled.
And then Nikolaus Abend.  My grandmother was so happy she had something for everyone until she unlocked the armoire.  She discovered a handful of candies at best.  In his thick German accent my father laughed as he recalled, "Oh, she knew it was me and was so mad she threw me out."  This in itself should end the story.  But, it's my father so there is more.  The family gathered around in the living area upstairs for the festivities.  My father didn't want to miss out so he got a ladder and looked in through the window throughout the event.  My aunt and uncle recall seeing their older brother looking through the window and wondering why he wasn't in the house.
When I have a few sad moments, I look at a Dambedei and think of that story.  I still have my Christmas spirit.  I probably appreciate it more now that my father is no longer here.
My healing journey continues.  Join me.  We can exchange holiday traditions, the funniest stories, and have a great December.
(Henry Alfred Rudolph.  Born April 2, 1930.  Died March 2, 2015.)