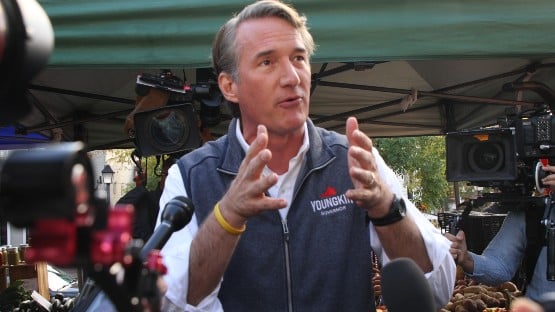 Glenn Youngkin, his eyes focused on a doomed run for the Republican presidential nomination, challenged Virginia Democrats to what amounts to a dick-swinging contest over a group of far-right gubernatorial appointments.
Bad news for Youngkin and his nonexistent presidential chances: yeah, he lost.
Senate Democrats on Tuesday blocked three of his most egregious attempts at social engineering through the appointment process, the highest-profile snub from Senate Democrats being Colin Greene, who had been named by Youngkin last year to serve as the state's health commissioner, and had, in his year running the Virginia Department of Health, made himself stand out from the crowd of crazies on the far right by fighting back against the declaration inherited from the era of Youngkin's Democratic predecessor, Ralph Northam, that racism is a public health crisis.
Democrats also voted to remove Suparna Dutta, a critic of progressive education reforms, from the Virginia Board of Education, and removed Steven Buck, a staunch critic of the state parole system, from the Virginia Parole Board.
Youngkin, in a statement released late Tuesday, sounded several dog whistles aimed at those paying attention to the presidential race, as if anyone tracking 2024 is paying any attention to Glenn Youngkin as any kind of serious contender.
"In an appalling show of partisanship, today Senate Democrats attacked the integrity of three highly qualified members of my administration," Youngkin said in the statement. "They voted to remove Suparna Dutta, shockingly claiming that a public-school parent isn't qualified to serve on the Board of Education. She is a mother and advocate for parents' rights, she is an immigrant and an advocate for Asian American rights, she is an engineer and advocate for STEM in education. She is not only qualified, she epitomizes parental involvement in our schools and we need her voice on our Board of Education.
"After exposing Adrianne Bennett's criminal misconduct, they also voted to remove Steven Buck from the parole board. He's a career prosecutor who has put criminals away at the local level and investigated fraud for the Attorney General's office. And Dr. Colin Greene, who has served honorably as State Commissioner of Public Health the past year and has successfully stewarded the Commonwealth out of the coronavirus pandemic.
"Democrats are repeating loudly their clear beliefs: parents don't matter, criminals first victims last, and petty politics above Virginia's best interests. It's shameful. Virginians deserve so much better," Youngkin said.
Whoever in his inner circle authorized this statement on his behalf seems to not realize that Youngkin needs those same Senate Democrats that he's publicly shaming to sign on to his signature bad policy idea – the billion-dollar tax cut that he's been pushing relentlessly, even as it's emerged that his budget somehow left out $201 million in state funding that was supposed to go to local schools.
That one was already a non-starter given the budget realities, but it's harder now to foresee any chance of Youngkin being able to work across the aisle to get the tax cut done when he's busily taking the flamethrower to the notion of actually being able to get things done.
The fight for these three nominees, in particular, was ill-conceived by Youngkin and his cronies from the start.
Greene, who cloaks his bigoted views in his career as a doctor and a U.S. Army veteran, used his appointment to downplay the role of racism in state health disparities, and after a mass shooting called the term "gun violence" a Democratic talking point.
And then all you need to know about Dutta, the Board of Education appointee, is that Ginni Thomas, the election-denying far-right activist and wife of election-denying far-right Supreme Court Justice Clarence Thomas, was lobbying state senators on Dutta's behalf, writing in an email that Dutta "is being viciously attacked by leftist thugs who hate diverse voices, unless they control them."
The one disappointing move in Tuesday's Senate vote was the re-insertion of self-styled anti-"Woke" critic Bert Ellis to the University of Virginia Board of Visitors.
Democrats Lynwood Lewis and Chap Petersen, apparently competing with each other to be Virginia's version of faux U.S. Senate Democrat Joe Manchin, both broke with the rest of the Senate Democratic caucus to approve Ellis, forcing a tie-breaking vote from Lt. Gov. Winsome Earle-Sears, who predictably voted for Ellis' approval.
Among the priorities of Ellis, a UVA alum who is the CEO of Ellis Communications, an Atlanta-based, early-stage venture capital firm and an investor in The White Spot, a popular Corner restaurant, is reversing the push led by previous BOVs and UVA President Jim Ryan for increased diversity, equity and inclusion on Grounds.
Ryan, who was appointed to serve as the university's ninth president in 2018, convened a Racial Equity Task Force in 2020 that set out among its goals that UVA double the number of underrepresented faculty by 2030 and develop a plan for having a student population that better reflects the racial and socioeconomic demographics of the Commonwealth of Virginia.
The task force also encouraged UVA to assist related organizations in the development a scholarship program for the descendants of enslaved laborers who worked to build and maintain the University, and to develop a series of educational programs around racial equity and anti-racism, including leadership development programs focused on equity, including racial equity.
Ellis wrote in a blog post after Youngkin's victory in the 2021 gubernatorial election that the Board of Visitors was "responsible for letting the University make the outrageous changes that have been made over the tenures of Presidents Sullivan and Ryan," and that UVA is "overrun with courses that exist for no other purpose but to make a big deal about race and gender and other issues that can only create more oppressed parties trying to tear down anything and everything and everyone that helped create our University."