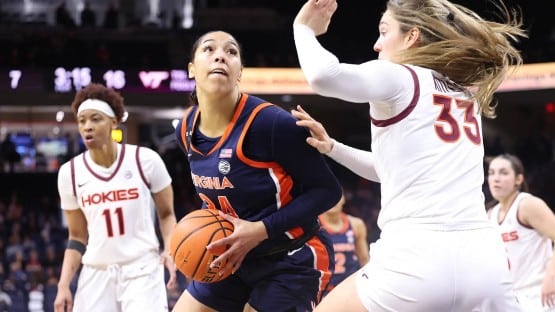 The Virginia and Virginia Tech women's basketball teams concluded the regular season over the weekend and will now prepare for a trip to the ACC Tournament, taking place Wednesday through Sunday in Greensboro, N.C.
The eighth-ranked Hokies (24-4, 14-4 ACC) earned the No. 3 seed in the tournament — the highest in team history since joining the conference — and received a double-bye. They won a program-record 14 conference games, and won't have to take the floor until 8 p.m. Friday night in the quarterfinal round.
The Cavaliers (15-14, 4-14), meanwhile, stumbled to a 13th-place finish, and will have to win five games in five days if they wish to emerge as ACC champions. UVA will kick off the tournament at 1 p.m. in the first game Wednesday against No. 12 seed Wake Forest (see complete tournament schedule below).
For the Hokies, everything revolves around ACC Player of the Year Elizabeth Kitley, who closed out the regular season with a bang in the win at Georgia Tech Sunday, pouring in a season-high 29 points to go with 11 rebounds, good for her 18th double-double of the year and 52nd of her stellar career.
The senior star center has registered 20-plus points in 15 of her 27 games this season, and will look to keep it rolling in Greensboro.
Kitley is averaging 18.8 points, 10.7 rebounds and 2.3 blocks per game, and just picked up her fourth ACC Player of the Week honors of the season. She ranks first in the conference in rebounds and blocks, second in field-goal percentage (.569) and fourth in scoring, and became the school's all-time leading scorer in Thursday's win against North Carolina, capping off a late 10-point Tech rally with a buzzer-beating, catch-and-shoot jumper for the win.
Kitley was recently named a semifinalist for the Naismith Defensive Player of the Year award, and will continue to anchor a Hokie squad that has won its last eight games heading into the postseason.
"I think we've been playing together a lot better than we were in the beginning of the season, and I think we've been playing with a lot more confidence also, which has definitely translated on the court with our success," said Kitley.
The backcourt tandem of junior Georgia Amoore and senior Kayana Traylor is one of the best in the league. Amoore is deadly from 3-point range, ranking first in the conference in triples per game (2.9), and third in 3-point percentage (33 percent).
Amoore is also seventh in the ACC in scoring (14.6 ppg) and third in assists (5.4 apg).
Traylor (11.1 ppg) is averaging 17 points across her last two games, knocking down 6 of her last 11 from long range. Forwards Taylor Soule (11.4 ppg, 5.7 rpg) and Cayla King (8.5 ppg) round out the starting five for head coach Kenny Brooks, now in his seventh season in Blacksburg.
Tech will face the winner between No. 6 seed Miami and whoever prevails in Wednesday's Boston College-Georgia Tech nightcap. The Hurricanes will face either the 11th-seeded Eagles or the 14th-seeded Yellow Jackets in the second round on Thursday night.
The Hokies — who are projected as a 2-seed in the upcoming NCAA Tournament (their third-straight trip to the Big Dance) — advanced to the ACC semifinals last season for the first time since joining the league in 2004-05, and are hoping to make some more program history this weekend.
The Cavaliers, meanwhile, have experienced quite a roller-coaster ride of a season, the program's first under head coach Amaka Agugua-Hamilton. UVA began the season winning its first 12 games, but struggled in ACC play, winning just three of its final 17 contests. UVA has dropped three games in a row and 10 of their last 11.
Coach Mox has had to reshuffle her lineup time and again, as former McDonald's All-Americans Mir McLean and Samantha Brunelle — two of the team's top performers — were both lost to season-ending injuries, and the team was down to just six available players against the Hurricanes in the regular-season finale Sunday.
"We've been through a lot of adversity," Agugua-Hamilton said after the loss. "I typically don't believe in moral victories, I want to win. I'm competitive and so is my team, but I'm proud of the fight that we showed [against Miami]. I'm proud that we were able to compete for 40 minutes with all the adversity, low numbers, and barriers that were put in our way, so this is something that we can build on for the ACC Tournament."
UVA senior forward Camryn Taylor is Virginia's leading scorer with 13.8 points per game (11th in the ACC), and is also the team's leading rebounder among available players with 6.1 per game (16th), as McLean averaged 9.6 boards prior to her injury back in January. Only Taylor, who is also sixth in the conference in field-goal percentage (.461), and fellow senior McKenna Dale have played in all 29 games for the Cavaliers this season.
Taylor has registered double figures in 11 of her last 12 games, and eclipsed the 20-point plateau for the fifth time this season (21 points) in the finale Sunday against Miami.
Dale added 14 points against the Hurricanes, and is averaging 12 per game in her last three contests. Two other seniors, point guard Taylor Valladay and forward London Clarkson, have stepped up their efforts as well. Valladay (10.1 ppg, 3.9 apg; 6th in the ACC) has scored in double figures in each of her last five games after not doing so in her previous six outings.
Clarkson had scored 10 or more in five out of six games, capped off with a career-high 23 against North Carolina on Feb. 2, but tallied just 24 points in the five games since.
UVA defeated the Demon Deacons in their lone meeting of the regular season in the ACC opener for both teams, 72-52, way back on Nov. 13. Senior guard Kaydan Lawson scored 13 of her game-high 15 points — including three 3-pointers — in a dominant 27-11 third quarter that was the difference in the win.
Should the Cavaliers advance to Thursday's second round, they would face fifth-seeded Florida State at 11 a.m., for the right to take on No. 4 seed Louisville in the quarterfinals on Friday morning (also at 11 a.m.).
Virginia dominates the all-time series against Wake, 70-9, but the Deacons have taken four of the last five meetings. Wake, which comes in having lost its last five games and six of its last seven, is led by junior guard Jewel Spear (16.0 ppg) and sophomore guard Elise Williams (10.1 ppg).
The Deacs bounced Virginia from last year's tournament in the opening round, 61-53, in what turned out to be Tina Thompson's final game as UVA coach.
The Hoos, who have won three ACC Tournament titles (1990, '92 and '93), haven't won a tournament game since a 77-61 victory in the opening round over Boston College in 2019, dropping their previous three contests. Virginia did not compete in the 2020 event due to canceling the season in the midst of the pandemic.
The ACC is expected to have as many as nine teams competing in the NCAA Tournament in a few weeks, according to ESPN bracketologist Charlie Creme, more than any other conference.
No. 13 Duke was in first place for most of the campaign, but 10th-ranked Notre Dame claimed the top seed on the final day of the regular season after No. 18 North Carolina upset the Blue Devils Sunday, 45-41, in Durham. Along with the Irish and the Devils, the Hokies and fourth-seeded Louisville received the other two double-byes. Florida State, Miami, North Carolina, NC State and Syracuse will each begin play on Thursday in the second round.
ACC Tournament Schedule
FIRST ROUND (all games on ACC Network)
Wednesday
Game 1: No. 13 Virginia vs. No. 12 Wake Forest, 1 p.m.
Game 2: No. 15 Pitt vs. No. 10 Clemson, 3:30 p.m.
Game 3: No. 14 Georgia Tech vs. No. 11 Boston College, 6:30 p.m.
SECOND ROUND (all games on ACC Network)
Thursday
Game 4: Virginia/Wake Forest winner vs. No. 5 Florida State, 11 a.m.
Game 5: No. 9 Syracuse vs. No. 8 NC State, 2 p.m.
Game 6: Pitt/Clemson winner vs. No. 7 North Carolina, 6 p.m.
Game 7: Georgia Tech/Boston College winner vs. No. 6 Miami, 8 p.m.
QUARTERFINALS (all games on ACC Network)
Friday
Game 8: Gm. 4 winner vs. No. 4 Louisville, 11 a.m.
Game 9: Gm. 5 winner vs. No. 1 Notre Dame, 2 p.m.
Game 10: Gm. 6 winner vs. No. 2 Duke, 6 p.m.
Game 11: Gm. 7 winner vs. No. 3 Virginia Tech, 8 p.m.
SEMIFINALS (all games on ACC Network)
Game 12: Gm. 8 winner vs. Gm. 9 winner, noon
Game 13: Gm. 10 winner vs. Gm. 11 winner, 2:30 p.m.
CHAMPIONSHIP (ESPN)
Semifinal winners, 1 p.m.